September 13th, 2014 · 32 comments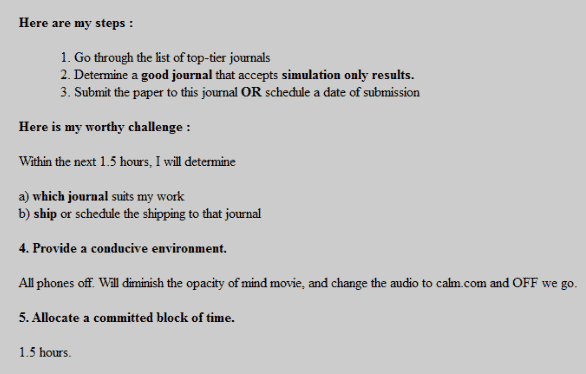 In Search of Depth
Aaron is a PhD student. This requires him to spend a significant fraction of his time thinking about hard things.
To accommodate the necessity of depth in his working life, Aaron developed a ritual he uses to quickly shift his brain into a state of concentration.
Here's how it works:
Aaron puts on headphones and plays non-distracting meditative music (this track is a favorite).
He launches FocusWriter, a stripped-down text editor that hides all the features of your computer (not unlike George R. R. Martin's use of Word Star).
He loads up a template that contains seven questions about the deep task he's about to begin. These questions force him to specify why the task is important and how he's going to tackle it (see the above screenshot of the template taken from one of Aaron's work sessions). The issues addressed in this template come from a classic Steve Pavlina post titled "7 Ways to Maximize Your Creative Output."
Getting through these steps takes around five minutes. As soon as Aaron's done typing in his final answer he turns immediately to the scheduled deep task.