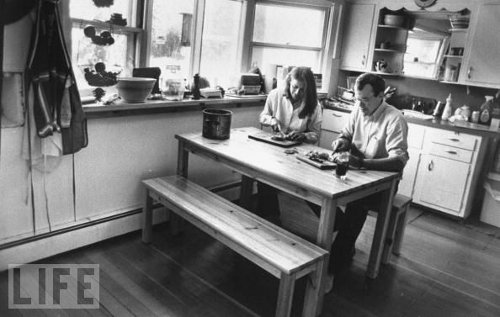 The Lonely Rise of Sonya Sotomayor
Tucked away in the northeast corner of the Bronx, not far from Edenwald Houses, the borough's largest public housing project, sits the Cardinal Spellman Highschool — a private, yet still affordable catholic high school (the annual tuition is under $7000), that has been for the past fifty years, as Lauren Collins put it in a recent New Yorker article, home to "strivers of assorted ethnicities" attempting to better their situation.
It's not surprising, therefore, that a young Sonya Sotomayor found her way to Spellman in the fall of 1968. After distinguishing herself academically (she was valedictorian), Sotomayor graduated from the Bronx to Princeton University and then on to Yale Law School, where she was editor of the Law Review. After paying her career-appropriate dues in the New York District Attorney's office, she moved into corporate law.
In 1991, Sotomayor was appointed a district court judge, and in 1997 she advanced to the court of appeals. Even at this early stage, her potential to become a Supreme Court justice was recognized (Rush Limbaugh dedicated an entire show during her appeals court confirmation to stalling her "rocket ship to the Supreme Court"). Earlier this year, Sotomayor realized this potential when President Obama nominated her to fill the seat vacated by David Souter.
Sotomayor is great at what she does and loves doing it. Translated into the vernacular of modern career advice: she found her calling.
But at what cost? 
In a column written during Sotomayor's Supreme Court confirmation hearings, David Brooks describes the ambitious jurist as an exemplar of a "meritocracy that gets more purified and competitive by the year, with the time demands growing more and more insistent." As Brooks noted, Sotomayor divorced twice and is candid about her workaholism.
"Certainly the fact that I was leaving my home at 7 and getting back at 10 o'clock was not of assistance in recognizing the problems developing in my marriage," she once said.
Sotomayor's story and Brooks' commentary were brought to my attention in a trio of posts written by Ben Casnocha. In these posts, Ben argues that a calling — which he defines, quoting Michael Lewis, as "an activity you find so compelling that you wind up organizing your entire self around it" — is usually pursued at the expense of the other important areas of your life.
"If you want a calling, you don't have time for a family," Ben proposes.

Casnocha and Brooks are correct to notice that true callings are often truly corrupting to the overall quality of their subject's lives. High stakes fields like law or finance, for example, are rich with Sotomayor-style workaholics. But this Faustian trade-off is not inevitable.

In this post, I highlight a different path; one that preserves both elements of the remarkable life — professional engagement and deep enjoyment of daily living. To do so, I'll enlist the aid of a provocative personality who started life on a similar trajectory as Sotomayor, but then split off in an unexpected direction.
The Charmed Life of Bill McKibben
When the future New York Times columnist Nicholas Kristof arrived at Harvard in 1978, he knew he was a good writer. "I expected to shine in the mandatory expository writing class," he recalled in a blog post. But he was soon "mildly traumatized" to discover that he was only the second best wordsmith in the class.
"The best was a gangly dynamo with an interest in the environment, a kid named Bill McKibben."
McKibben, a brash young environmentalist from Palo Alto, leveraged his writing skill to become editor of the famed Harvard Crimson. This prestige earned him a spot as a staff writer for The New Yorker after graduation, where he worked on the Talk of the Town section throughout the mid-1980s.
Up to this point, McKibben's story closely follows Sotomayor: he focused his attention on building a rare and valuable skill, which earned him access to elite worlds. In 1987, however, the paths followed by these two upstarts diverged.
After watching Bill Shawn, the editor who hired him, be ousted from The New Yorker, McKibben quit — moving to a small village at the foot of Crow Mountain, an unassuming peak nestled in the Adirondacks. Once there, he penned The End of Nature, a bestseller that introduced global warming to a wide audience.
McKibben continued freelance writing, publishing a series of books that addressed issues of environmentalism and sustainability — often centered around lifestyle experiments. In The Age of Missing Information, for example, McKibben watched 24 hours worth of programming on all 93 channels available in a Washington D.C. suburb, and then compared the experience to a day spent on a mountaintop near his Adirondacks home.
Eventually, McKibben and his wife moved to the Champlain Valley of Vermont, where he accept a post as scholar in residence at Middlebury College — in essence, being paid to think big thoughts and inspire students to do the same. He continues to write influential books (Al Gore cited The End of Nature as bolstering his dedication to climate change), and his organization 350.org, which promotes climate change activism, has become an important voice in the conversation surrounding the topic.
Though his work is engaging and affects the world, McKibben's lifestyle is far different from the late night marathons of Sotomayor.  An article in Progressive Magazine, for example, describes his days as "filled with canoe trips, mountaineering, writing, and teaching"; a rustic rhythm succinctly captured in the photo that opened this post, which shows a young McKibben and his wife enjoying a sunny afternoon.
Whereas Sotomayor personifies ambition pursued at the expense of all else, McKibben's story resonates with our conception of the remarkable life. It's worth asking, therefore, what lessons we can extract from these two divergent tales of achievement and happiness.
Two Core Questions

As I've argued before, thirty years of research has identified the following three traits to be crucial if you want a rich life:
Autonomy — control over how you fill your time.
Competence —  mastering unambiguously useful things.
Relatedness — feeling of connection to others.
Sotomayor has competence in spades, but lacks autonomy and relatedness. McKibben, on the other hand, maintains high levels of all three traits — which explains why his story inspires us.
This technical understanding spawns two important follow-up questions:
How did McKibben build up all three traits?
Why don't more people follow his lead?
The answer to both of these questions can be found in a little understood concept that I call the competence trap.
The Competence Trap
The direct route to achieving autonomy, competence, and relatedness is to master something rare and valuable. The argument is economic: if you want your career to accommodate these desirable traits, you need to offer something valuable in return — the market couldn't care less about your soul's ache for fulfillment.
Following this path, however, is tricky…
Imagine you've managed to become "so good they can't ignore you." By doing so, you've earned what we can call career capital. You can now invest this capital to gain desirable traits in your life.
Objectively speaking, you should follow Bill McKibben's lead and invest this capital to obtain more autonomy and relatedness while continuing to build your competence. In other words, you should improve all three areas crucial for an engaging life. (This is exactly what McKibben did when he left the bustle of the New York publishing world to write an important book on his own terms.)
Here's the catch: this option is unlikely to be presented to you. From the perspective of the talent marketplace, the only investment that makes sense is to double down on competence — the better and more respected you are, the more value you have in the market. The other spheres, though important to you, don't arise naturally in this economic calculus. Because of this reality, in the heat of the moment, it will seem as if only Sotomayor-style, competence-centric paths are available.
This is the competence trap: when you amass enough career capital to exert meaningful control over your life and career, the only investment presented as reasonable will be to further maximize your competence at the expense of the other areas of your life.
For example:
The Ivy League student who graduates with honors is attracted to law school because it's the next rung on a competitive competence-growing ladder.
The ambitious med student turns to a demanding specialty because it's presented as the domain for hot shots.
The young corporate star enrolls in an MBA program so she can return to the management fast track at the company, as that's the prize stand outs are supposed to chase.
And so on…
To follow McKibben's lead requires a cautious awareness of the competence traps that will litter your path as you become better and better at what you do.
Two Important Caveats
This concept provides many opportunities for subtle misunderstandings. With this in mind, let me address two important caveats.
Caveat #1: You Still Have to Get Really Good
The competence trap is not an argument to avoid the rat race to instead go live in semi-agrarian simplicity. The decision to invest in your autonomy and relatedness is meaningless if you don't have career capital to spend. Mastering something rare and valuable remains the necessary first step. For example: if McKibben had coasted through Harvard then moved directly to the Adirondacks, he probably would have failed. Key to his path was first becoming an excellent and respected writer. The End of Nature, for example, was serialized by his old employeer, The New Yorker, before publication — helping to ensure a big impact. Deciding to leave the magazine world to write books was not a risky decision for McKibben — he knew he had game, as did the publishing industry — it was just an unusual one. As I've argued before, these big changes shoudn't make you too nervous.
Caveat #2: You Then Have to Continue to Get Better
Sidestepping the competence trap doesn't mean that you stop building your competence to instead dedicate your life to your family, or your garden, or whatever other image dominates your daydreams. Instead, it means that you build autonomy and relatedness along with competence. You're not stepping into an existence free of responsiblity; the remarkable life can still be remarkably demanding — but it's demanding on your own terms.
If you're serious about building a remarkable life, you must be wary of the competence trap. Don't expect the path to autonomy, competence, and relatedness to obvious — no one at the New Yorker, we can assume, was suggesting to McKibben that he should leave his dream job to move to a mountain cabin. It is up to you to ignore where the market is pushing you, and instead use your own assessment of value when identifying your options.