A Writing Tour of Georgetown
Today I needed to finish a tough chunk of writing. The ideas were complicated and I wasn't quite sure how best to untangle the relevant threads and reweave them into something appealing. I knew I was in for some deep work and I was worried about my ability to see it through to the end.
So I packed up my laptop and headed outside. Here's where I started writing:
Once I began to falter, I switched locations: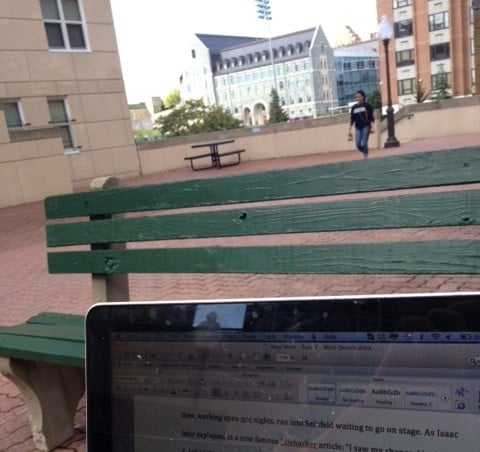 As I neared the end my energy begin sputter, so I switched locations one more time for the home stretch: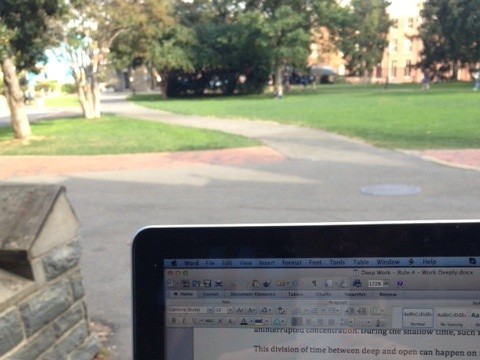 In this third and final location I finished.
The Concentration Circuit
Combined, the chunk of writing took me two hours: less time than I had expected. The key to this efficiency, I'm convinced, was the frequent location switching.
Something about arriving at a new and novel location — somewhere different than where you normally work — provides a boost to your motivation and aids concentration. Over time, this effect will wane. But if you keep switching locations, you can keep re-stimulating this reaction again and again, maintaining an average level of concentration that's potentially much higher than if you had slogged through the deep task in one (literal) sitting.
I call this approach the concentration circuit as it cycles you through a circuit of locations to keep your concentration levels elevated.
To be clear, most of my deep work sessions are decidedly less interesting. They take place in my office with the door closed.
But sometimes I need something extra. If I'm feeling uninspired or the task is particularly complicated, I look for ways to scrape together any advantage I can find (c.f., here and here and here). The concentration circuit is an important tool in this deep work toolbox.