Disruptive Thinkers is a semi-regular series that features interesting young people with interesting ideas about college, studying, or life in general.
The Randomness Factor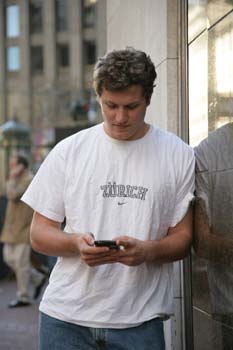 In early May, 2007, Ben Casnocha, a college student, entrepreneur, author, and all-around big thinker, posted a blog article titled: Expose yourself to bulk, positive randomness. The idea, which was later developed in more detail in his book, My Start-up Life, proposed a simple change: If you want interesting, grand things to happen in your life, stop trying to plan out every last detail. Instead, go out of your way to expose yourself to randomness. Lots of it. And then put in an effort to follow-up.
This pro-randomness philosophy runs counter to the cult of systematization that pervades much of the productivity blogosphere — which is why it intrigues me. So I asked Ben to walk us through the concept…
What is your randomness philosophy?
The philosophy is based on the difficulty of predicting which projects will ultimately be most successful. Sometimes it's the random projects that turn out to be most important. To wit, we ought to "expose ourselves to randomness." We should proactively generate opportunities that might seem random…but who knows?
"Randomness" includes, among other examples, conferences no one else is going to, obscure books, and the odd person you met who you're not quite sure is interesting.
What are some examples from your own life where randomness paid off?
Some of the most interesting things that have happened to me — experiencing exotic situations abroad or getting my book published — have in part resulted from seeking out randomness. Without an overarching career goal in life, I can follow these various threads of randomness to their end. Once I was at a funeral, and met someone, and followed up, stayed in touch, and the person became one of my most important business mentors. This counts as randomness because I didn't meet him at a business networking function. It was at a funeral.
What can a fellow college student do to live this philosophy?<
Take classes you might not otherwise take; go on that trip you've been putting off; make unusual choices; go to as many visiting speakers as possible. Try to build the most rich and diverse "input stream" as possible.
What are the pitfalls?
If you take a meeting with some random e-mailer, there's a chance he turns out to be uninteresting and a dud [ed: or a serial killer]. There's also a chance he could go on and be your future co-founder. So you need to apply some filter. The key is to use a different filter than everyone else to pick up on people and ideas that others might miss.
Of course every day can't be an experiment in randomness. Every day shouldn't be random meetings, random web surfing, and random walks through the park. Allocate certain time to pursuing unusual paths — but it shouldn't be your whole day.
Let's do the Michael Pollan thing: summarize your philosophy in seven words or less.
Be open to random opportunities. Who knows?