The Obama Method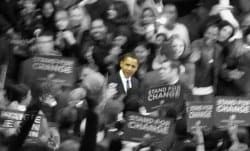 In response to my recent article on Misery Poker, a reader commented:
I wonder about the really exceptional people. Does Barack Obama "build a realistic schedule"? … maybe extraordinary stress IS required to accomplish extraordinary feats
Another reader added:
I think extraordinary sacrifices are required for great accomplishments.
This is a fascinating argument. Study Hacks, as you know, is driven by the Zen Valedictorian Philosophy, which claims that it's possible to be both relaxed and impressive. But these commenters are pushing back on this world view. It's one to thing, they note, to have a successful college career that is also relaxed, but is it possible to have an exceptional career without overwhelming amounts of work?
In this post I claim it is possible. And I'll explain exactly how…
Barriers and Myths
Let's start with the myth that drives most peoples' thinking about what it takes to be exceptional:
The Exceptional Effort Myth: Exceptional results require exceptional amounts of effort.
The logic here is obvious. By definition, if something is exceptional it's also rare. If it's rare, there must some difficult barrier to achievement.
This we can agree on.
But what is this barrier? Most people default to the simplest explanation: the barrier that makes exceptional achievement rare is that it requires an exceptional amount of work. This gives us the myth highlighted above.
For some endeavors, of course, this myth matches reality. For example:
Running for president.
Aggressively growing a start-up business.
Becoming a standout junior associate at your law firm.
These exceptional achievements absolutely require lots and lots of work. Their criteria for success have amount of effort explicitly built in. A young lawyer, for example, is judged almost exclusively on the number of hours he bills.
But here's the thing (and this is the important part): I claim that for most exceptional endeavors, an exceptional amount of work is not required. In other words, the barrier to exceptional achievement is not the volume of effort, but something else entirely…
The Magic of Deliberative Practice
Last year, Geoff Colvin, a senior editor at Fortune Magazine, wrote an article titled: Why Talent is Overrated. It was a sensation. He received so many letters that he soon expanded the ideas into a full length book of the same name, which was released last month.
At the core of the article was a simple proposition: the real path to great performance is not built on natural talent or volume of hard work. As Colvin describes, recent research has increasingly highlighted, instead, the importance of a very specific type of work called deliberative practice.
Researchers claim that it's this type of practice — not natural talent, and not raw hours spent working — that makes the bulk of the difference between exceptional people and the rest.
Colvin provides five traits that define deliberative practice:
It is designed specifically to improve performance.
"The essence of deliberate practice is continually stretching an individual just beyond his or her current abilities. That may sound obvious, but most of us don't do it in the activities we think of as practice. At the driving range or at the piano, most of us are just doing what we've done before and hoping to maintain the level of performance that we probably reached long ago."
It can be repeated a lot.
"Top performers repeat their practice activities to stultifying extent."
Feedback on results is continuously available.
"[Y]ou may believe you played that bar of the Brahms violin concerto perfectly, but can you really trust your own judgment? In many important situations, a teacher, coach, or mentor is vital for providing crucial feedback."
It is highly demanding mentally.
"Continually seeking exactly those elements of performance that are unsatisfactory and then trying one's hardest to make them better places enormous strains on anyone's mental abilities…no one can sustain it for very long."
It's hard.
"Doing things we know how to do well is enjoyable, and that's exactly the opposite of what deliberate practice demands."
I want to draw your attention to point (4). In further explaining this property, Colvin tells a story:
Nathan Milstein, one of the 20th century's greatest violinists, was a student of the famous teacher Leopold Auer. As the story goes, Milstein asked Auer if he was practicing enough. Auer responded, "Practice with your fingers, and you need all day. Practice with your mind, and you will do as much in 1-1/2 hours." What Auer didn't add is that it's a good thing 1-1/2 hours are enough, because if you're truly practicing with your mind, you couldn't possibly keep it up all day.
In other words, deliberative practice is hard. It demands we leave our comfort zone. We need expert feedback. We have to return again and again to the same trouble areas to get better. But the one thing it's not is exceptionally time consuming. It can't be. You simply can't keep it up for 12 hours a day.
Pulling It All Together
I'm fascinated by deliberative practice because it provides a missing piece to our ongoing conversation about becoming a standout.
Recall, for example, our discussion of Steve Martin. His path to becoming famous was defined by deliberative practice: every night, he would return to a comedy club and try to push his comedy a little bit further into new territory. This was hard. But instead of defaulting to easy laughs he relentless drove his routine forward.
We see similar patterns with our student case studies:
While Toph was working in Australia, he kept taking on projects that stretched him beyond his current ability within the marketing field. The result was a rapid rise. When he left, the company begged him to stay.
Scott had a similar experience pushing himself to become an Eastern Europe expert once he arrived at Law School. He's now on his way to a Fullbright Scholarship.
Here's my conclusion. For most endeavors, the path to becoming exceptional requires that:
You focus on one thing and commit to it over a long period of time.
During this period, you consistently engage in deliberative practice, again and again, to cause a rapid rise in your ability.
This approach is consistent with the Zen Valedictorian Philosophy. The practice is hard but short. If you're properly focused and can put in an hour or two of deliberative work on most days, you can become exceptional. Doing more work isn't going to help. Neither will tacking on dozens of other activities or commitments.
So if your goal is to become a true star, take a careful look at how you spend your time. Beneath all of your activities and faux-busyness, what really matters is the time spent buckling down and putting in the right type of effort to get better at what's most important to you. Everything else is just for show.
(Photo by Thirty30; modified by author)