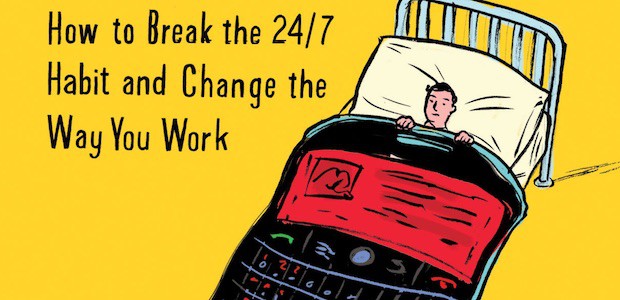 The Nature of Our Business
When Harvard Business School professor Leslie Perlow began her multi-year study of consultants at the high-pressure Boston Consulting Group (BCG), she was quick to identify a defining behavior of her subjects: they were always connected. The pressure for them to check their email at all waking hours was intense — a point captured in the title of Perlow's 2012 book on her research, Sleeping with Your Smartphone.
As Perlow summarized in an HBR article on the topic, the BCG consultants, like many knowledge workers, see this constant connectivity simply as "the nature of our business."
To me, however, the important question lurking behind this topic is how did this behavior become so natural?
And it's here that Perlow's research on BCG uncovers an interesting answer…
The Cycle of Responsiveness
There was never a BCG board meeting or company wide strategy session where it was decided that significantly increasing consultant connectivity would boost profits or improve morale.
Instead, as Perlow documents, this behavior emerged in an undirected and incremental manner within the organization…
It would start with a legitimate need: perhaps a consultant (let's call her Alice in this example) begins checking her email later at night to match the distant time zone of a client.
Once online, Alice might answer a few stray emails from her coworkers to get ahead on her inbox processing.
These coworkers, seeing that Alice seems to be online at night develop an expectation that a message sent late in the day will be answered before the next morning…so they start to send more messages of increased urgency after hours.
Alice responds to this pressure by spending more time online during the evening to answer these messages quicker.
This resets the expectations of Alice's peers to the point where they now expect a response within an hour at any point in the evening.
And so on…
Repeat similar "cycles of responsiveness" (to use Perlow's term) all across an organization and it doesn't take long before a company evolves a culture of constant connectivity — the new behavior, seemingly overnight, becoming "the nature of our business."
The key point in Perlow's description is that this cycle is haphazard. It's driven by convenience, expectations, and human nature — not a careful process analysis. We have, in other words, no reason to believe that this behavior is a particularly effective way to conduct business — and yet most modern knowledge workers accept it as an immutable law.
The Need for Workflow Engineering
A few months ago, I introduced the concept of workflow engineering. The basic idea is that knowledge workers should subject their workflows to the same metric-driven analyses that massively increased the profitability of the industrial sector in the early 20th century.
The cycle of responsiveness summarized above underscores the importance of this philosophy. When you don't subject your professional behavior to scrutiny, and instead just accept the emergent status quo as the "nature of our business," you may not be happy with what evolves.
In the end, it may turn out that our smartphone addictions are a boon to our productivity (though I doubt it), but as it stands we don't know either way, as this is just one of many behaviors in 21st century knowledge work that we're content to allow to emerge without constraint or evaluation.
Put another way: until we're willing to work seriously on how we work, we're in for an unpredictable and bumpy ride.