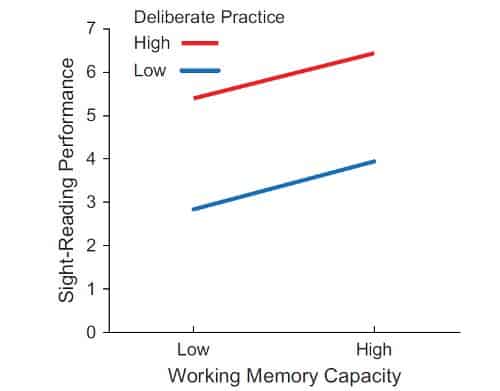 Bad New for Strivers?
Two psychology professors, David Hambrick and Elizabeth Meinz, recently wrote a New York Times op-ed with a typically snarky title: Sorry, Strivers: Talent Matters. Many helpful readers were quick to forward me the link.
The authors of this piece start by asking a simple question: "How do people acquire high levels of skill?"
They note that research in recent decades — pioneered by Anders Ericsson, among others — has emphasized the importance of practice, and that these findings have been "enthussiastically championed" by popular writers like Malcolm Gladwell and David Brooks, perhaps due to their "meritocratic appeal."
They then trip their intellectual trap: "This isn't quite the story science tells. Research has shown that intellectual ability matters."
To support this view, they cite their own research, recently summarized in a paper appearing in the journal Psychological Science, which shows that people with larger working memory capacity end up better piano players.
I'm mentioning this article because we've been exploring what I call the deliberate practice hypothesis — the idea that applying deliberate practice techniques to a knowledge work environment can lead to huge gains in ability and value. The question at hand is whether this New York Times piece should give us reason to pause.
I read their paper, and my conclusion is that it's not yet time to abandon deliberate practice to start searching for your innate talent.
Here's why…
Forget About the Final 7 Percent Until After You Maximize the First 93

What struck me about Hambrick and Meinz's paper is that it emphasized the necessity of deliberate practice for high achievement.
Consider, for example, the graph at the top of this post, which was pulled from their study. Both lines in the plot show how performance on a piano sight reading task improves with increases in working memory capacity, a trait that the authors argue is innate.
The red line shows this improvement for players with lots of deliberate practice and the blue line shows the improvement for players with less practice.
The key take away is that the  impact of deliberate practice dominates the impact of memory capacity. Practicing more makes you over twice as good. Going from low to high working memory capacity, on the other hand, yields only a minor improvement for an already well-practiced player.
When they finished crunching the numbers, and doing the proper controls for practice quantity, the authors found that this memory capacity accounts for less than 7% of a player's ability at this task.
From a scientific point of view, this result is important as it clearly identifies a separation between innate and acquired skill.
But from a practical perspective, it's essentially irrelevant. The fact that these findings are so rare, and that these authors are so excited about such a small effect size, only emphasizes just how small a role innate ability seems to play in achievement.
In other words, unless you are trying to become the world's top piano sight reader, the 7% advantage of having been born with a vast working memory capacity is not going to play a major role in your achievement.
Now let's return to the setting that concerns us here at Study Hacks: knowledge work. The deliberate practice hypothesis assumes that almost no one in this setting is working in a way that approximates deliberate practice. In the context of the Hambrick and Meinz study, most of your coworkers are therefore on the blue line from the graph above.
This, of course, only reinforces the idea that embracing deliberate practice can have a profound effect on your ability in this work setting, as this embrace will vault you to the red line. From this lofty perch, minor differences in innate talent won't matter. Your overwhelming value has already been definitively established.
#####
This post is part of my series on the deliberate practice hypothesis, which claims that applying the principles of deliberate practice to the world of knowledge work is a key strategy for building a remarkable working life.
Previous posts:
(Figure from Psychological Science)