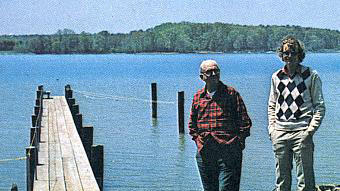 Method Writing
When James Michener was writing his epic 1978 novel, Chesapeake, he didn't have to travel far for inspiration. At the time he lived in an old house, nestled on 25 acres, near the Choptank river on a creek that emptied into the eastern waters of Chesapeake Bay.
"He loved the sounds of the place," explained Michener friend and collaborator Errol Lincoln Uys. "He would take long walks out to the end of the dock and stand there while he tried to figure something [about the book] out. He loved the sounds of the migrating ducks. He loved the nature of the place."
By the time a couple from Baltimore bought the house from Michener in 1995, the novelist was long gone. In the early 1980s, he moved to Austin, to immerse himself in the rhythms of the Lone Star State while writing Texas.
These were not the only times Michener used location to inspire his work. After Texas, he moved temporarily to Sitka, Alaska, to work on his novel Alaska, and his original epic, Hawaii, was written during a period when Michener lived on the island.
There's something aspirational about this idea of deploying grand gestures (to use a term from Deep Work) to push forward creative endeavors. I'm bringing it up here, however, because I think there's a subtle point lurking in Michener's nomadism that's relevant to knowledge work in general…
Neuronal Productivity
Michener intuited that the human brain is not adapted to perform hour after hour of demanding abstract thinking. To finish his 1000-page novels required more than simply adding "write for five hours today" to a to-do list, nestled between more mundane tasks.
Michener knew he had to nudge and cajole his brain into a state where it was willing to do the herculean cogitation he needed from it. Dramatic location changes, tuned to the specific deep task at hand, was one of his core strategies for this purpose.
But here's the thing: when it comes to hard mental tasks, there's nothing special about fiction writing. Whether you're painting a picture, writing computer code, or crafting a new marketing strategy — sometimes sweeping and smartly calibrated efforts are needed to get your brain ready to do what you need from it.
Clear plans and good intentions (to my chagrin) are not always enough.
This reality is largely ignored by the world of professional knowledge work: a setting that likes to imagine the human brain is a general-purpose task computer that can simply be fed little nuggets of effort (through emails and slack channels and end-of-meeting action items) to churn through each day, with the hope that these systematic efforts will add up to something significant.
But this approach ignores the messy reality of our gray matter, which is much more idiosyncratic and context dependent than the silicon processors we strive to mimic.
(For more on the danger of embracing this arbitrary brain as computer metaphor, see Douglas Rushkoff's thought-provoking book, Present Shock.)
There is, I suspect, great value to be gained for both individuals and organizations that are enlightened enough to consider this more holistic form of productivity (what we might call, neuronal productivity?) when it comes to extracting value from human brains.
Michener was on to something. Deep work is hard. If you want to produce big things, you need to be willing to go big with your work habits.
(The above picture of James Michener and Errol Lincoln Uys at Michener's Chesapeake home was taken by Uys.)
#####
A few weeks ago, a group of producers from a fascinating startup called Mentorbox spent a day at my house in Silver Spring, MD, filming me talk about my fourth book, So Good They Can't Ignore You. The interview was for their subscription service in which they send you a new business book each month, along with detailed notes and both audio and video interviews with the author that dive deep into the core ideas. I was really impressed and honored to be involved. You can find out more here.