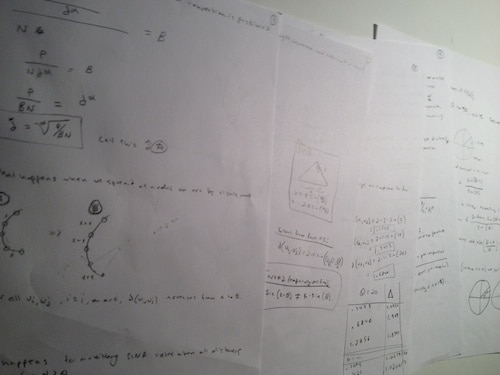 Diving into Deep Work
Last week I introduced the deep work philosophy — an approach to knowledge work that (in theory) increases the quality and quantity of your output. Since then, I've put the philosophy to the test in a mini-experiment. Starting last Saturday, I've dedicated roughly 1 hour of my day to deep work on a specific proof that's been on my queue for a while.
This is a small scale experiment. My goal is to develop a preliminary understanding of how my deep work philosophy translates to practice.
Here are my observations so far…
I was surprised by the amount of output produced in a small amount of time. The image above shows the notes produced so far by my experiment. These notes capture an essentially complete proof for the problem I was tackling.
Deep work definitely induced the deliberate practice of new concepts. To work out the proof notes above I had to re-learn a bunch of geometry that I hadn't touched since high school. My tendency in these situations is to look for a theorem somewhere that proves exactly what I need, and, failing that, ask someone for the answer. The deep work mindset, however, inspired me to actually go to first principles and prove the properties I needed from scratch. I now know a little more about geometric proofs than I did four days ago.
It helps to explain things out loud. My mind, like most minds, resists the energy demands of concentrating deeply on something complicated. If I explained what I was working on out loud, however, it helped keep me focused.  Yesterday, for example, I gave Max a mini-lecture on the derivatives of trigonometric functions. He responded, naturally, by crying. But I still found it useful.
Clarity is crucial. The problem I was working on this week didn't come out of nowhere. Over the path month, I dedicated a dozen hours toward learning the main results in the relevant model. Since then I've been discussing these ideas with a specialist. By the time I started deep work on this particular result I had confidence that the problem was useful and had a good general strategy for solving it. Without this clarity, mustering the resources for deep work would have been harder. (A couple years ago, I wrote an article for Ramit Sethi's blog about this idea that "just get started' is bad advice.)
I need a stronger ritual. I was working at home without much transition into this deep work. I had the feeling that I wasn't 100% committed to what I was working on, which probably blunted my effectiveness some. I'm working on the details of my ritual.
I assume I'll get better with practice. There were many moments in this experiment where I felt strain and still persisted (the key to optimal quality and improvement). But I also felt like this strain was of a lightweight variety (at least, as compared to what's possible in academic theory). With practice, I think I'll be able to tackle increasingly complex mental puzzles — which inspires me to maintain this practice much like a runner maintains a running habit to build mileage.