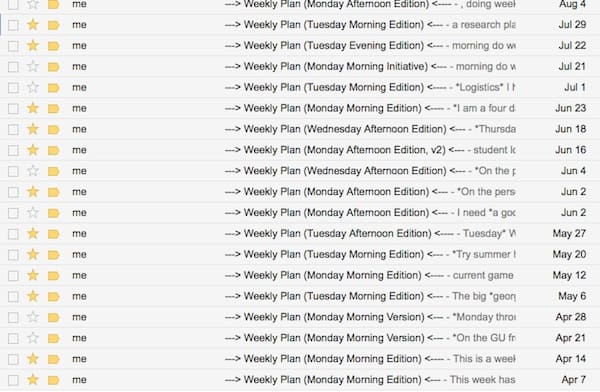 Making Time for Time
Something organized people don't often talk about is how much time they spend organizing their time.
I think this is a shame.
The past half-decade has seen a trend in (online) time management discussions toward simplification. It's now accepted by many that it's enough to jot down each morning a couple "most important tasks" of the day on an index card, and if you get those done, consider your day a success.
Think about this for a moment. This belief essentially cedes the majority of your working hours over to meetings separated by bursts of non-productive inbox shuffling and web surfing.
I for one am not yet willing to give up so many hours, as doing so would significantly reduce what I'm able to accomplish in the typical week. Which brings me back to time spent organizing time…
The Necessary Grind of a Good Weekly Plan
It's not unusual for me to spend two or more hours at the beginning of each week playing with the puzzle pieces that are my commitments, big and small.
It's hard work figuring out how to make a productive schedule come together: a goal that requires protecting long stretches of speculative deep thinking while keeping progress alive on long term projects and dispatching the small things fast enough to avoid trouble (but not so fast that the deep stretches fragment).
During today's planning session, for example, I had to balance immediate obligations like a paper deadline this evening, with short term obligations like grading midterms, with the many medium range obligations mounting from my next book launch, to long term obligations, like the need to continue to make progress on the theorems needed for an important February deadline.
Sprinkle in a dash of appointments and a heavy dollop of tasks and it's completely reasonable to expect that making sense of these pieces would require some serious thinking.
I'm telling you this mainly to provide another data point. It's true that many people approach their days with flexibility, perhaps hunkering down when an immediate deadline looms, but otherwise letting their reactions to input drive the agenda. But I want to emphasize that there's another group of us who take our time really seriously, and aren't afraid to spend hours figuring out how best to invest it.
This level of organization is not for everyone; but everyone should know that it's an option.