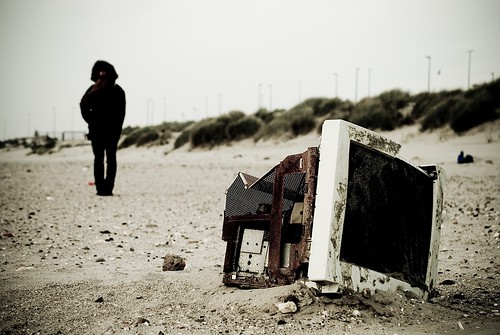 On Foundational Philosophies
In 2008, I introduced the Zen Valedictorian philosophy, which argued that it's possible to lead a student life that's successful and impressive at the same time that it's low-stress and enjoyable. All my student advice comes back to achieving this goal.
It came to my attention recently that I don't have a similar clarifying vision for my career advice. If the Zen Valedictorian is the epitome of what I think student life should be, what's my equivalent abstraction for maximizing life after graduation?
The need for this answer led me to develop the newest entrant to the Study Hacks canon: the Career Craftsman. I introduce this philosophy below in a pithy manifesto format. These ideas are a work in progress, and the propositions that follow mark the start of my exploration of this new direction in my thinking.

A Career Manifesto
Career advice has fallen into a terribly simplistic rut. Figure out what you're passionate about, then follow that passion: this idea provides the foundation for just about every guide to improving your working life.
The Career Craftsman rejects this reductionist drivel.
The Career Craftsman understands that "follow your passion and all will be happy" is a children's tale. Most people don't have pre-existing passions waiting to be unearthed. Happiness requires more than solving a simple matching problem.
The Career Craftsman knows there's no magical "right job" waiting out there for you. Any number of pursuits can provide the foundation for an engaging life.
The Career Craftsman believes that compelling careers are not courageously pursued or serendipitously discovered, but are instead systematically crafted.
The Career Craftsman believes this process of career crafting always begins with the mastery of something rare and valuable. The traits that define great work (autonomy, creativity, impact, recognition) are rare and valuable themselves, and you need something to offer in return. Put another way: no one owes you a fulfilling job; you have to earn it.
The Career Craftsman believes that mastery is just the first step in crafting work you love. Once you have the leverage of a rare and valuable skill, you need to apply this leverage strategically to make your working life increasingly fulfulling. It is then — and only then — that you should expect a feeling of passion for your work to truly take hold.
The Career Craftsman thinks the idea that "societal expectations" are trying to hold you down in a safe but boring career path is a boogeyman invented to sell eBooks. You don't need courage to create a cool life. You need the type of valuable skills that let you write your own ticket.
The Career Craftsman never expects to love an entry level job (or to stay in that job long before moving up).
The Career Craftsman thinks "is this my calling?" is a stupid question.
The Career Craftsman is data-driven. Admire someone's career? Work out exactly how they made it happen. The answers you'll find will be less romantic but more actionable than you might expect.
The Career Craftsman believes the color of your parachute is irrelevant if you take the time to get good at flying the damn plane in the first place.
#####
Here are some past articles that can help you adopt the Career Craftsman philosophy in your own working life. Expect many more to come:
(Photo by dio5)