The Mysterious Burnout Epidemic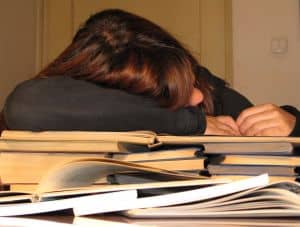 Our friend Leena once told me a sad story. It was about an old high school classmate. This guy was a certified math whiz: he took college-level courses while still in high school, then, after arriving at Stanford, jumped into upper-level subjects and advanced research. Somewhere around his junior year, however, his drive began to falter. As Leena recalls, his energy for math mysteriously faded away. He told her, at one point during this period, that he looked forward to surviving until graduation so he could go find a job in banking and make some money.
He wasn't overworked: he could easily handle his classes. And he wasn't lonely: he had plenty of friends. Something inside him just petered out.
Leena's friend burnt out, and he's not alone. An increasing number of students suffer from this mysterious affliction, which is marked by a sudden, unexpected drop in enthusiasm and academic performance in a once promising student.
In this article, I want to talk about a common cause of burnouts — a cause I call deep procrastination — and provide some understanding for why it happens and how to prevent it.
The Danger of Deep Procrastination
Deep procrastination is not the standard urge to goof off that afflicts every college student. It's much more powerful. A student suffering from deep procrastination will delay important work to an excessive degree. He won't start studying until late the night before or will delay paper writing until the sun is about the rise. After a while, he might begin to chronically miss deadlines, and find himself constantly negotiating with professors about extensions. Sometimes it gets so bad that he misses the extended deadlines — failing courses instead of completing the required assignment. No matter how dire the stakes, starting work becomes an insurmountable prospect.
I've advised numerous students suffering from deep procrastination of various levels of severity. In all cases, the causes were basically the same:
A major and/or post-graduation job aspiration that doesn't match the student's real interests,
combined with a difficult (though not necessarily unmanageable) workload.
Many students, of course, have difficult workloads. But when the hard work is motivated by a goal that's misaligned with their real interests, students can develop resentment toward the work. They begin to see the effort required to keep up with their double major or crazy activity load as an intrusion from an outside entity — almost a literal attack on their happiness. Eventually a deep psychic aversion to the work develops, and they find themselves mired in deep procrastination.
This might be what happened to Leena's friend at Stanford. His entire life, he had been told that he was a math whiz. But at some point, he began to resent the work required to live up to other people's expectations. Eventually, the resentment boiled over: he was through with math.
Avoiding Deep Procrastination
My advice for side-stepping this problem is both easy to understand and hard to put into practice: figure out what you really want to accomplish at college, then choose your path based on an honest answer to this question.
To help you ponder this prompt, keep the following cautions in mind:
There's a lot more to be said on this topic. For example, it's important that you don't mistake serious mental issues, such as depression or anxiety disorder, for deep procrastination. With this in mind, if you find yourself unable to work, always talk to one of your college's counselors as part of your recovery effort, just to be sure that something else isn't lurking. (It's not a big deal, they don't bite, and they love when students come in to chat.)
But the most important advice here is to avoid this mess altogether by taking the time to answer, on your own, the important questions about what you're really trying to accomplish with your college career. After that, do your best to keep your choices consistent with this answer.
It's an obvious idea. But trust me, it can prevent some serious problems.