The Power of Good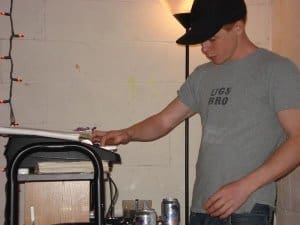 In early May, I received an interesting e-mail from a reader. After the standard introductions, he said:
Though I'm progressing towards my goal to become a physicist, I'm also very interested in writing a novel.
He noted that before diving into a novel he would probably have to first "write a short story or two." He wanted my advice for how to kick off this project in time for summer.
"This sounds like a great idea for a Grand Project," I replied. "But I would first be definite that this is an important goal in your life, because I predict you'd need at least five years of focused work before landing a book deal becomes a possibility."
My answer reflects an observation that plays an increasingly important role in my understanding of the world: if you want to do something interesting and rewarding — be it writing a novel, becoming a professor, or growing a successful business — you have to first become exceptional. As Study Hacks readers know, I think Steve Martin put it best when he noted that the key to breaking into a competitive and desirable field is to "become so good, they can't ignore you."
In other words, there's no shortcut. If you want the world to pay attention to you, you have to provide a compelling reason. It doesn't care about your life goals.
In this post, I want to discuss a simple method with a complicated back-story. It's a technique that can help you move efficiently down the road toward becoming exceptionally good.
The story behind this advice starts with an old friend who possessed an unlikely talent.

The Saga of Sickabod Sane
Around high school, my longtime friend, Chris, began to show a natural ability for rap music. This was somewhat unexpected considering that we lived in a sleepy, 2000 person town, not far outside Princeton, New Jersey. But this didn't seem to deter Chris.
By the time he arrived at NYU, the novelty-song ethos that drove his high school creations began to wear away. He developed, in its place, a mature ear for crafting brain-burrowing hooks and complex beats. By the time he graduated, in 2004, his friends agreed: a professional music career lay in Chris's future.
Let's jump ahead to the fall of 2006.
At this point, Chris's catalog had grown, as had the quality and inventiveness of his music. A steady stream of small-time players had emerged with promises to help Chris achieve his destined break, and the best of his songs had earned cult followings. But he hadn't yet received any attention from the industry heavyweights.
Around this time, Chris and I had a phone conversation that would change the way we both thought about the art of becoming good.
In the month or so leading up to the call, Chris had made his first tentative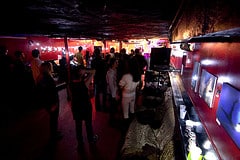 stage appearances at a series of open mike nights. The last of these performances had been at the infamous Tuesday night bootcamp, held at the Pyramid Club, a popular underground rap venue in midtown Manhattan (see the picture to the right).
Anyone could sign up to perform during the bootcamp open mike. But it was a decision few made lightly. Pyramid attracted aspiring rap talent from all five of New York's boroughs — birthplace to some of the industry's most talented (and hardest) performers.
Not an easy audience.
In addition the open mike, the club's emcee, an industry veteran with the stage name Mental Supreme, also hosted a semi-regular rap showcase. It cost $100 to enter, and the winner went home with $1000. It was judged by industry insiders, and was considered to be a place to spot upcoming East Coast talent. Anyone brave enough to face the demanding crowd could sign-up for the open mike. But only the best of these performers were invited to grace the showcase stage.
As I learned during our phone call, Chris's first performance at Pyramid had been shaky. But something about the club seemed right.
"This feels like the place to be," he said.
We soon hatched a plan. He would forget the random advice he'd been receiving from various friends and hangers-on — the suggestions to hand out demo CDs in front of radio stations or network to meet the right executives. Instead, he would turn his focus solely onto the Pyramid Club. He would return to the open mike again and again until he was able to win over that crowd. After that, he would progress to the showcase and play to win.
Our logic was simple: if he couldn't become good enough to win over the Pyramid Club crowd, he couldn't become good enough to attract industry attention. So why waste energy doing anything else?
I'm going Pyramid it up," he said at the end of the call.
"Yep," I replied. "Time to Pyramid it up."
As the months passed, Chris got better. His early halting performances gave way to the occasional not bad performance. He worked harder on his songs, trying, week after week, to craft that one beat or lyrical turn that could impress his skeptical crowd.
Eventually, he scored his first Pyramid hit; an avalanche of improbably complex flows that he dubbed Mixtape. During his first performance of the song he received one of the highest honors you can achieve in New York's underground rap scene: audience members touched his sneakers after a few of the more particularly tight lines.
Chris was invited to perform Mixtape at the next $1000 showcase. He earned third place. Afterwards, talking to the judges, he learned that he lost on his stage presence scores.
He returned to the studio, working late into the night, as was his habit, to craft ever-catchier hooks. Before his open mike performances, he now also took to incessant practice — going over every beat of his on-stage movements.
The rate of Pyramid hits began to increase. Soon the audience was singing along to their favorite songs.
He entered the $1000 showcase again, this time wielding an unapologetically original track called Top 8 — an homage to MySpace that somehow integrates three different rhythm changes with a Broadway-style musical chorus.
This time, he won first place.
He entered the contest three more times, winning twice more and tieing for first place on the other occasion. The club retired him from competition — no one else had a chance when he performed. He was only the second rapper to ever achieve this distinction.
More recently, he heard about another club that hosted a $1000 rap showcase. On a whim, he entered it. He won that contest, too.
At this point, Chris had finally become so good that the industry couldn't ignore him. Natural talent hadn't been enough. He needed the focus of the Pyramid challenge to drive him to develop his skills as far as they could possibly go.
After his string of showcase victories, he signed with a serious manager. Since then, his life has changed. He's been flown to L.A. and Miami to record with well-known producers. He has meetings with high-level record company executives. It's clear that the pieces of a professional career are careening into place.
The Pyramid Method
The difference between the first two years after Chris's graduation, and the two years that followed our fateful phone call, couldn't be starker. The key to his transformation was two-fold: (1) Chris focused his attention on improving his standing at a single venue; and (2) this venue provided clear metrics, so he could track his progress and use this to tweak his practice to be as effective as possible.
I call this general technique the Pyramid Method. I claim that it's a powerful approach for anyone looking to transform an interest or natural talent into an expertise that cannot be ignored. Regardless of the pursuit in question, if you want to take it someplace serious, follow Chris's example. This means:
Pick a single relevant venue to join at the entry level and work to increase your standing.
Make sure the venue offers clear metrics on your progress; use these metrics to guide your efforts to get better.
Forget all the other bullshit advice and mini-strategies people offer for getting ahead in your pursuit. If you can't master this one venue, then you don't yet deserve the world's respect.
Put your head down, and get it done.
The Novelist
Let's return to our aspiring novelist from above. What venue could he choose to apply the Pyramid Method? I suggest his college's literary journal. The entry level for this venue is getting a piece published. The higher levels include getting a story featured on the cover and being invited to join the editorial board.
If he can't conquer this venue then he certainly can't expect a book deal. So instead of wasting time reading about tricks for getting an agent, or diving straight into a novel manuscript, he should consider pouring all of his writerly focus into this Pyramid.
My Pyramid
To give another example, when I wanted to improve my non-fiction chops before pitching my third book, I picked a respected online magazine as my own personal Pyramid. This publication had an approachable entry-level because it encouraged submissions. Its best staff writers, however, were professionals with good reputations. I set my goal to become a staff writer with recognized talent.
I began by trying to get any piece accepted. Two years later, I was a staff writer, and I had one of my feature articles chosen to be included in a book of the magazine's best writing of the past decade. (Ironically, it was a piece about Chris.)
This required a huge amount of work. But my effort was focused like a laser beam. As a result, the quality of my writing made huge leaps during this time.
Conclusion
This method doesn't provide shortcuts. Becoming exceptional requires an exceptional amount of work. Trust me, you can't avoid this. But not all work is made equal. And the Pyramid Method focuses your attention exactly where it needs to be.