December 15th, 2017 · 36 comments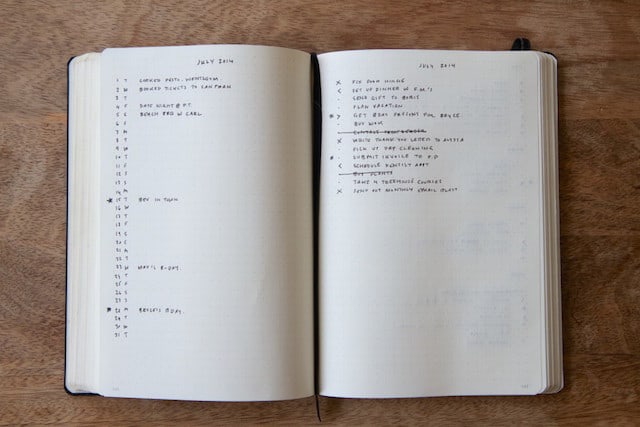 Analog Productivity
Bullet Journal (BuJo for short) is a personal productivity system invented by a product designer named Ryder Carroll. You can find a detailed introduction to BuJo on its official web site, but I can provide you the short summary here.
The system lives entirely within an old-fashioned paper notebook. Each day you dedicate a page of the notebook to a daily log in which you create a bulleted list of tasks and events. As the day unfolds, you use shorthand marks to indicate a task is complete or needs to be migrated to a different day.
You can also take brief notes about the day, and, if needed, hijack multiple pages for more extensive musing. The next daily log can live on the next available page. (This idea that you format notebook pages on demand instead of in advance is fundamental to BuJo.)
There are some standard pages most BuJo notebooks include in addition to the daily log entries. An index at the front of the notebook is used to keep track of how the pages are being used. You grow the index as you fill the notebook. Each month also gets its own monthly overview and task list that are used to inform how you schedule individual days. And so on.
A good way to think about BuJo is basically a less-rigid version of the Franklin Planner system.
BuJo for the Overloaded
A lot of readers have asked me about BuJo so I thought I would share some thoughts.