May 17th, 2018 · 36 comments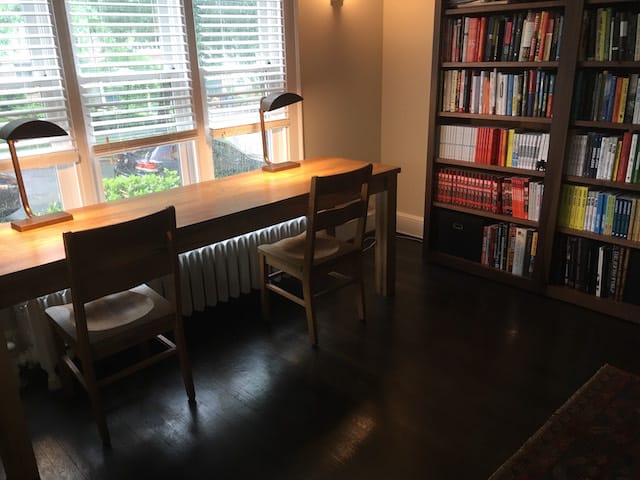 Location-Boosted Cognition
A few days ago, I wrote about the converted barn where Simon Winchester writes. By working in a quiet and scenic location, surrounded by books and nature, Winchester is leveraging a key principle of attention capital theory that I call location-boosted cognition.
Put simply, this principle claims that the details of the physical space in which you perform cognitive work can substantially increase the value of what you produce.
Many writers swear by location-boosted cognition. I include myself in this category (the above picture is from the mini-library I built in my new house to support my deep work.)
This shouldn't be surprising. Writers make their living almost entirely based on the quality of their thoughts, so they tend to care a lot about maximizing what they get out of their brain.
A point I made at the end of my Winchester article, however, is that many other knowledge work endeavors might also benefit from leveraging location-boosted cognition.
Organizations that depend on elite-level thinking — tech companies, law firms, high-end advertising boutiques, and so on — already spend fortunes to hire and retain top talent, and to provide them access to the best information and tools, so it's only natural that they might deploy extreme work environments to further increase productivity.
Unfortunately, this idea is plagued by logistical obstacles. As a reader noted in the comment thread of my Winchester post: "not everyone…has the resources or possibilites to buy a farm with a place like that [to work]."
He's right. As our economy increasingly shifts toward advanced knowledge work, location-boosted cognition in the style practiced by writers like Simon Winchester simply doesn't scale. There are only so many fantastical huts, forest sheds and personal libraries available for the aspiring deep workers of the world.
Virtual Depth
It's here, however, that I want to return (tentatively) to an idea I first floated two years ago: using virtual reality (VR) to create similar immersive single-tasking experiences.