August 8th, 2014 · 40 comments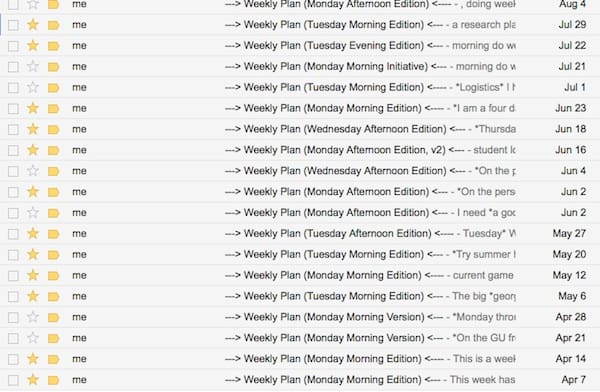 A Planning Habit
On Monday mornings I plan the upcoming work week. I capture this plan in an e-mail and send it to myself so that I will be sure to see it and have access to it daily. (See the snapshot above of some recent plans in my inbox.)
This planning can take a long time; almost always longer than an hour. But the return on investment is phenomenal. To visualize your whole week at once allows you to spread out, batch, and prioritize work in a manner that significantly increases what you accomplish and goes a long way toward eliminating work pile-ups and late nights (the latter being crucial if you practice fixed-schedule productivity).
There is no best format for creating a weekly plan. In fact, I've found it's crucial to embrace flexibility. The style or format of your plan should match the challenges of the specific week ahead. (Indeed, attempting to force some format to your plan can reduce the probability you maintain the habit.)
To illustrate this point, I will show you two recent weekly plans I used (with the content scrubbed where needed for privacy reasons).