Post-Thanksgiving Scramble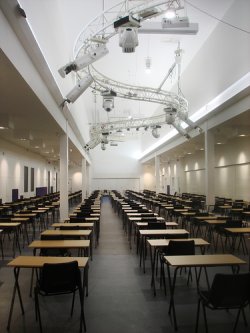 It's the week after Thanksgiving. For most students this means finals are rapidly approaching. If you haven't begun thinking about how to tackle this upcoming challenge, now is a great time to start. With this in mind, I want to review 5 common mistakes that students make during this period.
Read what's below before diving into your own final-driven scramble and you'll increase your odds of making it to Christmas vacation unscathed by an academic disaster.
Mistake #1: Not Having a Clear Schedule

Some students assume they can handle finals period one day at a time. When it gets close to an exam date they start studying. If they have a paper due in a few days they begin writing. And so on…
This is a recipe for a disaster! Deadlines will creep up and conflict. You'll end up staying up late, rushing your studying, turning in crappy papers, and generating more stress and worse grades than is necessary.
You should, instead, build a detailed and clear plan that covers every due date and exam — including exactly when you'll you work on each.
Mistake #2: Not Purging Your Obligations
Most students maintain a significant load of minor obligations throughout the semester. These include all the gunk that builds up on your task list, generated by your extracurricular involvements, promises to friends, and various administrative annoyances.
This gunk can usually be handled by smart capture systems and regular mucking. But in finals period, your workload will spike. During this time, the little obligations in your life can add stress and destabilize your attempts to focus on the big things.
The key, therefore, is to ruthlessly purge the minor stuff right now, before the workload spike occurs. The system outlined in the recommended reading will walk you through this process.
Mistake #3: "Studying"
Nothing upsets me more than students who treat "studying" like a generic action. Here's the truth: The verb "study" means nothing. It's way too vague. I'd be happy if it was banished from the student lexicon!
Here's what you should do instead: deal with specific actions. That is, your review plan for a class should be a collection of discrete, specific action items — each of which requires no more than an hour. Once the list of discrete specific actions is completed for a given class, you're done. No guilt. No staying up late in the library because you feel like that's what you're supposed to be doing.
Mistake #4: Social Working
Exam prep and final paper writing is not a time to be social. There's no easier way to scuttle your efficiency than to study in crowded lounges or in public areas of the library. If you want to bond with your friends, play a game of pong. If you want to prepare for finals, seek monastic isolation and work in small energetic bursts.
Mistake #5: Calculating Your Final Grade
A lot of students try to figure out what effect different final exam grades will have on their final grade in the course. (For example: "I have to get at least a 90 on the final to get an A in the class.") Indeed, almost every e-mail I get asking for exam preparation tips seems to be prefaced with some range of scores the student has to hit in order to get some desired final grade.
Don't do this! No good can possibly come from such a superficial focus on the numbers. It will add stress. This, in turn, will make it harder for you to execute a reasonable, specific, and efficient study plan. Also, it's just plain crass. You don't want to be that person…
Forget about your G.P.A., and focus, instead, on how you can best prepare for the specific challenge in front of you. If you screw up, you screw up. Perform a post-mortem and use this to guide better preparation the next time around. Good long-term performance will follow from this short-term focus.
What mistakes are you looking to avoid this exam season?
Hat tip: longtime reader, David.
(Photo by davidhc)