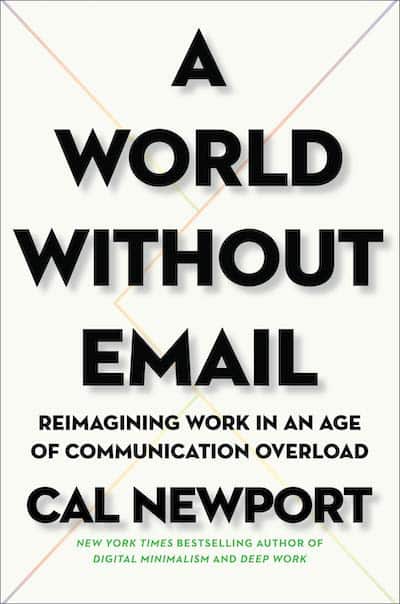 I'm pleased to officially announce my new book: A World Without Email: Reimagining Work in an Age of Communication Overload. It comes out March 2nd in the US (and March 4th in the UK).
I started working on this book in 2016, almost immediately after Deep Work was released. At some point, I put the manuscript on pause to write Digital Minimalism, then returned my attention to grappling with its central ideas.
In many ways, this book is my magnum opus on the topic of technology and the workplace. If you've been following my articles for the New Yorker over the past year or so, or listening to my podcast, you've encountered a sampling of the rigorous new thinking at the core of this effort.
I've divided A World Without Email into two parts.
The first part, which is titled "The Case Against Email," provides the definitive treatment on how the world of work transformed after the introduction of digital communication tools, and what unintended consequences these changes created.
The second part, which is titled "Principles for A World Without Email," introduces a framework I call attention capital theory that can be deployed to radically rethink how we work, pushing us toward a vision in which ceaseless, ad hoc messaging is replaced with much more sustainable and structured approaches to producing valuable output with our brains.
The advice in this book is designed to be relevant for several different audiences, including employees, entrepreneurs, and executives. This breadth is captured in the endorsements, which include:
Dropbox cofounder Drew Houston, who says "A World Without Email crystallizes what so many of us feel intuitively but haven't been able to explain: the way we're working isn't working."
Kevin Kelly, who says "Cal Newport is on a quest to uncover better ways for knowledge workers to collaborate."
Harvard Business School Professor Leslie Perlow, who says "This book is a call to action"
Greg McKeown, who calls the book " bold, visionary, almost prophetic."
I will, of course, be talking about the book more as we approach the publication date. If you preorder the book, hold on to your email receipt, as I'll be announcing soon a way for you to redeem it to receive a pre-order bonus.
But until then, I'm just excited to finally be talking publicly about something I've been working on for so long on my own…
#####
Speaking of my books: if you live in the UK, the kindle version of Digital Minimalism is currently on sale for only 0.99p…if you haven't read my latest yet, this is the absolute best time to do so!