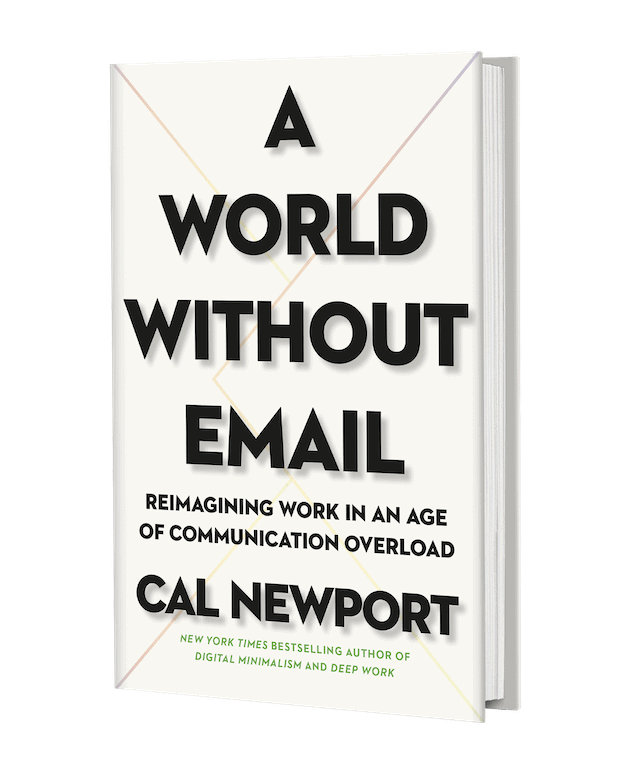 My new book, A World Without Email, which comes out on March 2nd, is available for pre-order.
For multiple reasons, pre-orders are much more useful than normal sales, so if you were already thinking about buying my new book, I want to humbly nudge you toward considering a pre-order.
To demonstrate my sincere thanks to those who take the time to help my book in this manner, I wanted to put together the coolest possible incentive. This is how I came up with the idea of creating a brand new online course, available only to readers who pre-order the book, that features me breaking down the main ideas of the book and giving concrete advice on how to put them into action.
I call this course The Email Academy. It features a collection of short video lessons, taught by me, that summarize the big ideas of my book, and then walk you through a step-by-step game plan for putting the ideas into action right away.
The game plan I outline lasts two weeks and aims to immediately reduce the amount of email you receive by 50%, with even bigger reductions to follow. I further break out and customize the advice for employees, small business owner/team leaders, and executives of bigger organizations.
I'm making this course available only to people who pre-order the book. On registering your pre-order using the form below, you will be given the website address and special access code needed to access The Email Academy starting March 2nd.
To further thank you for your purchase, you'll also be immediately given a long excerpt from the book that outlines the main ideas, allowing you to get started moving toward a world without email while waiting for your copy of the book to arrive in March.
Instructions for Accessing these Bonuses
Step #1: Pre-Order the Book.
If you live in the US, you can pre-order from Amazon, Barnes & Noble, or a local bookstore (as well as many other retailers). If you live in the UK, you can pre-order the UK edition at Amazon UK.  (The book is also being translated into many other languages, but these will come out later.)
All formats of the book qualify for the pre-order promotion, though all things being equal, buying the physical book is the most helpful.
Step #2: Register Your Pre-Order.
Fill in your contact information and order number from your digital receipt using THIS FORM. Once your order has been verified, you'll be provided access to a PDF that contains the information you need to access The Email Academy (starting March 2nd) and the bonus excerpt from the book.
(Questions or technical issues can be sent to [email protected].)