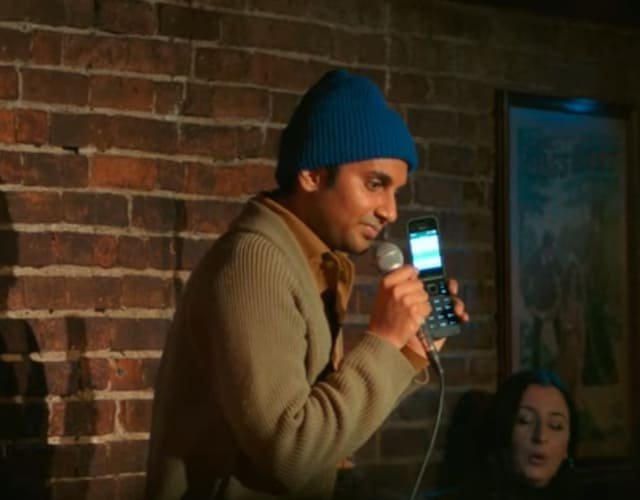 Not long ago, I watched Aziz Ansari's new Netflix special, Nightclub Comedian. I was pleasantly surprised when, early in the show, Ansari demonstrates his commitment to escaping tech-driven distraction by showing off his Nokia 2720 flip phone (see above). Soon after the special was released, Ansari elaborated on his personal brand of digital minimalism in a radio interview:
"Many years ago, I kind of started turning off the internet, and I deleted all social media and all this stuff, and I've slowly just kept going further and further. I stopped using email, maybe, four years ago. I know all this stuff is like, oh yeah, I'm in a position where I can do that and have certain privileges to be able to pull it off, an assistant or whatever, but all that stuff I do helps me get more done."
This commitment to craft over servicing digital communities is not uncommon among top comedians. Dave Attell, who is widely considered by his peers to be one of the best living joke writers, has a lifeless Twitter account dedicated primarily to announcing show dates. Dave Chappelle doesn't even bother using Twitter at all. "Why would I write all my thoughts on a bathroom wall," he quipped last year when asked about his lack of presence on the popular platform.
Professional comedy provides a useful test case for the importance of digital engagement. It's a field in which both name recognition and craftsmanship matter: you need an audience, but you also need to consistently deliver. Many top practitioners, such as Ansari, Attell, and Chappelle, experimented with this trade-off and ultimately decided that focusing on being so good you can't be ignored, not the frenetic managing of digital legions, was the surest route to sustainable success.
I recently had to spend a fair amount of time on Twitter to research my latest New Yorker essay. Encountering that onslaught of manic dispatches, tinged with equal parts desperation and pyrrhic triumph, I could only hope that these insights forged in the world of high-level entertainment will soon spread.