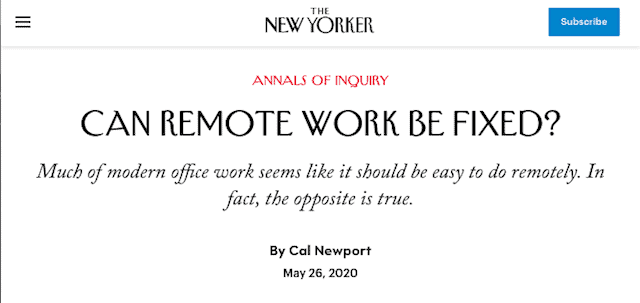 Earlier today, I published my latest article for the New Yorker. It's titled: Can Remote Work Be Fixed?
In this semi-epic long-form essay, I dive into the history of the remote work movement, documenting why, after decades of excitement, it ended up falling short of its potential.
I then tackle the big question on a lot of peoples' mind at the moment: Now that all knowledge workers are forced to work remotely, will we manage to fix these issues? Now that it's urgent, in other words, can we make remote work actually work?
As you'll discover, I find some room for optimism. Drawing lessons from the analogous history of the introduction of the electric dynamo to early 20th-century factories (this is a New Yorker article, after all), I argue that the pandemic might end up a forcing function that solves many — though certainly not all — of the issues that arrested remote work's original rise.
Ultimately, even after we return to a modified normal with more people once again working in offices, these fixes will continue to pay dividends. As I write:
"Before the pandemic, we were already suffering through a productivity crisis, in which we seemed to be working longer hours, glued to screens and drowning in e-mails. The solutions that make remote work sustainable—more structure and clarity, less haphazardness—may also help fix these other long-standing problems in knowledge work. Work that is remote-friendly for some may be better work for all."
Anyway, you'll have to read the whole piece to get the details. I have no doubt that fans of the type of stuff we discuss here will find a lot to like in it…