The Tale of a Seriously Stressed Student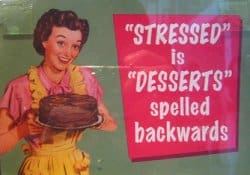 I recently came across this note from a high school student. It was posted anonymously on a public college discussion forum:
I do a lot: I'm a costumer for the school play, I play three instruments, I take a dual enrollment class, I am taking 5 AP classes, I am being privately tutored in a foreign language, I am the president and founder of a club as well as a member of the debate team, I'm organizing both a multi-cultural fair and a book fair at my school, I'm secretary for the French club, I'm a member of the Honor Board and I founded a non-profit organization. But quite frankly, I don't have room to breath and I'm feeling the effects of it physically.
Here's the thing: I don't know this student. But his story provides a purified, almost exaggerated example of the activity stress that plagues so many students. Because of this, I think he makes a great case study for our Zen Valedictorian philosophy. My goal for this article is to answer the following question: how could this student make his life much less horrible without hurting his college admissions chances? Is such a thing even possible? We'll find out…
The Activity Lists
Let's start by dividing this student's activities into two lists:
List A
Costumer for a school play
Plays three instruments
Has a private language tutor
Has a heavy course load
Member of the debate team
Organizing book fair
Organizing multi-cultural fair
Secretary of the French club
Member of the honor board
List B
Founded and runs his own club
Founded and runs his own non-profit
We begin with List A. The sheer size of this list likely causes massive stress in this poor student's life. But does it add anything interesting to his story? To answer this question, let's remember the Failed Simulation Effect…
Failed Simulation Effect: People are impressed by things that are hard to explain, not hard to do.
Apply this logic to List A. Is anything on that list hard to explain? Let me put this another way: is there anything on that list that you couldn't do if you wanted to? The answer is "no." Every item, in isolation, is something that anyone could sign up and do so long as he had the hours — or in the case of the language tutor, the money — to devote to it.
Accordingly, the impressiveness of List A is reduced to one thing: this student is able to juggle a large volume of relativity easy activities. But here's the important point: juggling a large volume of relatively easy activities — though time-consuming — does not impress admissions officers. They want to build interesting classes; not diligent ones.
Let me go a step farther. This student could replace the entire List A with the following:
Equivalent to List A
Spends 20 hours a week transcribing the phone book
Okay, so I'm being a little facetious here. But I'm trying to make a point. Both would have roughly the same impact on an admissions officer: the kid can force himself to work for a large number of hours. (Actually, this revised List A might be better. As we learned in our study of the Laundry-List Fallacy, having a long list of easy activities can signal less value than doing no easy activities at all.)
The Magic of List B
Fear not. All is not lost for our stoic student. Turn your attention to the comparably svelte List B. This list, by contrast, strongly invokes the Failed Simulation Effect — how the hell does a high school student start his own non-profit or club? The effect is instant: he must be doing something amazing! (Remember: people respect hard work but idolize magic.)
The activities in List B are exactly the type of things that make admissions officers — and people in general — swoon.
What Would a Zen Valedictorian Do?
If I knew this student and he came to me for advice, I would tell him to take a page out of the Zen Valedictorian playbook, which recommends, at a high-level:
Ditch all but your most inexplicable activities.
Focus on what remains and wring out the most possible impressiveness.
Resist the urge to fill in your newfound free time.
For this student, this translates to the following specific actions:
Drop everything in

List A

.
Turn your attention to pushing the two activities in

List B

toward new, cooler places. The more it makes someone say "How did he do that?", the better.
Don't stress out about the fact that you now have abundant free time. Use it to explore or to relax or to try to impress girls at ill-conceived high school parties.
Think about this. With just a fraction of the time he's wasting playing three instruments and being the secretary of the French club (really!? the French club?) he could be meeting interesting people and forming partnerships for his non-profit. Somewhere in there he'd probably be invited to speak at a conference, or a reporter would do an article on him. You know how this works. This type of random stumbling is what generates truly impressive students. Above all else: this slimmed lifestyle would be more impressive and exponentially less stressful than his current one.
Zen Resistance

Would this student accept this advice? Probably not. Giving up the security of doing what everyone else is doing can be difficult. And the cult of voluminous activities exerts a powerful hold. But I hope the case study provides you, faithful reader of Study Hacks, a little jolt; perhaps dislodging you from an activity rut that's generating too much stress. Once you start questioning the assumptions behind your actions, you'll often be surprised by the better options you discover that have been waiting there all along.
(Photo by rick)