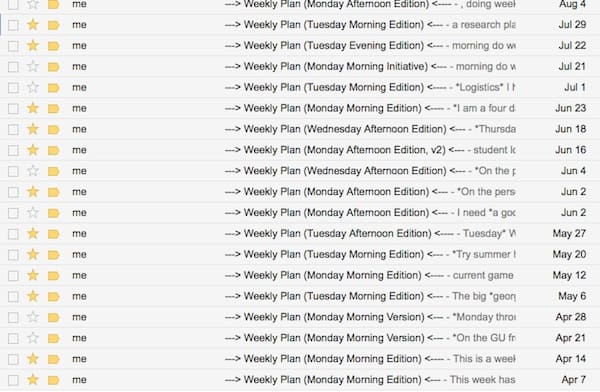 A Planning Habit
On Monday mornings I plan the upcoming work week. I capture this plan in an e-mail and send it to myself so that I will be sure to see it and have access to it daily. (See the snapshot above of some recent plans in my inbox.)
This planning can take a long time; almost always longer than an hour. But the return on investment is phenomenal. To visualize your whole week at once allows you to spread out, batch, and prioritize work in a manner that significantly increases what you accomplish and goes a long way toward eliminating work pile-ups and late nights (the latter being crucial if you practice fixed-schedule productivity).
There is no best format for creating a weekly plan. In fact, I've found it's crucial to embrace flexibility. The style or format of your plan should match the challenges of the specific week ahead. (Indeed, attempting to force some format to your plan can reduce the probability you maintain the habit.)
To illustrate this point, I will show you two recent weekly plans I used (with the content scrubbed where needed for privacy reasons).
Weekly Plan #1
Monday

After weekly planning do a focused task block to get out ahead of the small things on my lists for the week. Be sure in this block to finish <specific 20-minute task that is time sensititve>

Prepare a lecture for <my fall class>

End the work day with a 1 – 2 hour writing block.

Tuesday

Today is a research day: head in the office right away to dig into <research project>.

End day with 1.5 hours in <a favorite secluded spot on campus>, where the first hour is writing and the last thirty minutes is a batched attack on tasks.

Wednesday

I have a training seminar to attend in the morning and a meeting with my student in the later afternoon. Between these two events focus on prepping another lecture.

Depending on the length of my afternoon meeting, I may be able fit in a task block before coming home.

Thursday

First thing in the morning do budget and take care of <related annoying financial task>. The goal is to finish before <doctor's appointment near where I live>

After the doctor's appointment find a quiet place to work deeply on <research project>.

End day somewhat early for <yard work project>

Friday

Write. Deep work on research until mental burn out. Shutdown for weekend. Finish <yard work project>
The above weekly plan represents the most common format I use: sketching my goals for each day of the week. Notice, I'm not simply listing things I want to get done each day, but instead am trying to match work to the time that actually seems available on those days. A big part of the weekly planning process is working backwards from your calendar to fill in the open time effectively. Fortunately, because this plan is for a summer week, I had lots of open time to work with.
Now consider another plan that I used a few weeks after the above example…
Weekly Plan #2
Research

Carve out three hours of deep work every day for the below research tasks. This is the core of each day's schedule.

This week is do or die for getting to a final result for <a research project with an upcoming deadline.>

During downtime on this project (while waiting for responses from co-authors), see if I can push through <the final details of a different proof I'm working on.>

Dedicate one day's deep work for finishing <a journal paper review>

Georgetown Teaching/Misc

Each day, outside of the deep work hours assigned above, make progress on the below non-deep tasks.

Once my new textbook arrives, I need to decide on my syllabus for <class I'm teaching this fall> and post online.

The following small tasks are time sensitive this week: (1) pick up new parking pass; (2) send back visa letter for <a researcher I know>; (3) respond to <a colleague's> recent questions.

Writing

Use the morning block <[note: I sometimes work for an hour at home in the morning to allow traffic to die down]> and commute to plan and gather the sources I need to start writing next week.

Over weekend, write a blog post where I <reminder of post topic>
This plan adopts a different format. Because this was a summer week with no major appointments, meetings, or other scheduled obligations to break up my days (so rare, yet so wonderful), I could base my schedule around some simple heuristics: three hours a day on deep work for research, and a list of small things to schedule each day into the time that remains.
I would never get away with this approach during the height of the school year, but for a lazy week in July, it worked perfectly.
The bigger message here, however, is that I always decide in advance what I am going to do with my week. These decisions look different at different times of year, but what matters is that when it comes to my schedule, I'm in charge.