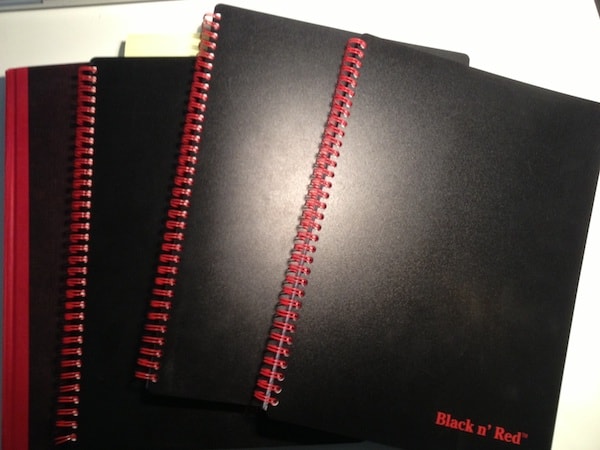 A Blocking Believer
Longtime Study Hacks readers know I'm a proponent of planning in advance how you're going to spend your time. To this end, each morning I block out the hours of my work day in one of my trusted Black n' Red notebooks (see above), and assign specific efforts to these blocks.
My goal, of course, is not to make a rigid plan I must follow no matter what. Like most people, my schedule often shifts as the day unfolds. The key, instead, is to make sure that I am intentional about what I do with my time, and don't allow myself to drift along in a haze of reactive, inbox-driven busyness tempered with mindless surfing.
Though the basic idea behind daily planning is simple — block out the hours of the day and assign work to these blocks — many readers ask me good questions about the details of its implementation. In response to these queries, I thought it might be useful to show you a few of my actual daily plans from recent days during this past month…
The Triple Rewrite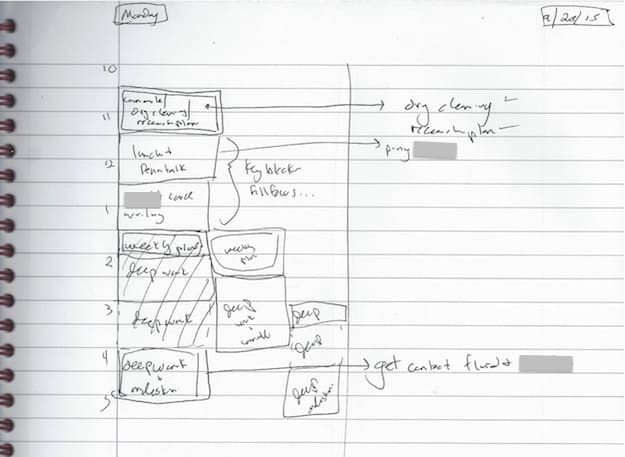 Notice, this plan doesn't start until 10:30. This doesn't mean that I started work at 10:30. On many days, I like to dive right into a deep task for an hour or so before taking the time to make a plan for the rest of the day.
The columns growing to the right side are rewrites that I made throughout the day as my plan changed. Someone stopped by my office during the 12:30 block to discuss a research problem, which shifted the length of my 1:30 task block. But even that shift was not enough as that block ended up lasting until 3 — requiring yet another rewrite of the plan.
Also, notice how I use the right hand side to elaborate the details of some of my blocks.
A Well-Oiled Teaching Day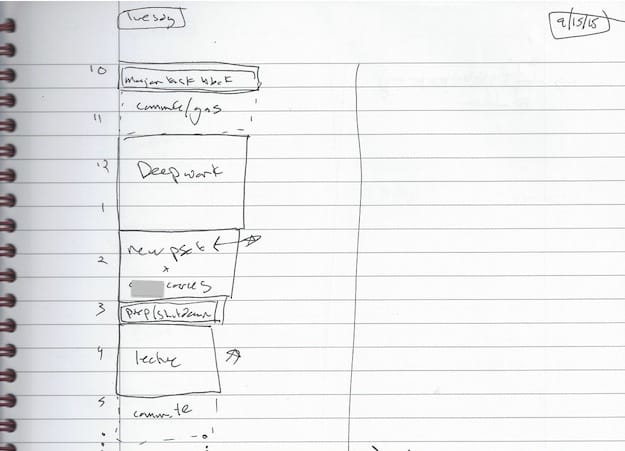 Here's an example of a teaching day unfolding efficiently. After an early morning block of work (not captured on the plan), I batched some key tasks before commuting to work. I then immediately carved out two hours of deep work before turning my attention to updating the problem set I needed to post that day. From 3 to 3:30 I reviewed my course notes and did a final shutdown pass before heading to teach my 3:30 class.
Notice, an implication of this schedule is that between 10:30 and 3:00 I never saw my e-mail inbox.
Salvaging A Fractured Day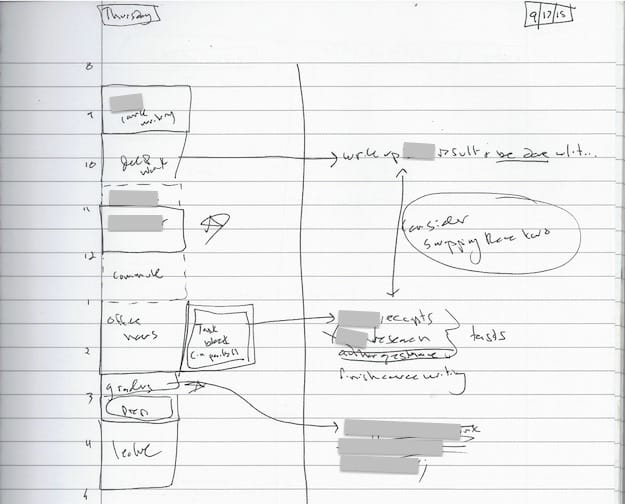 I actually wrote this Thursday plan the night before, so you can see the whole day laid out. Like most mornings, I start work at 8:30. In this case, I dived straight into a difficult course related task before turning my attention to deep work (which, for me, is almost always code for "working on research problems").
The grayed out blocks that follow involve me taking my youngest son to a doctor's appointment — a disruptive task from a scheduling perspective. But notice how my use of daily planning allows me to salvage every ounce of productivity from the day. Not only did I get a lot done before I left, but on arriving at campus, I was ready to inline core tasks into the down periods that arose during my regularly scheduled office hours.
I then had a grader's meeting and some final preparation for my lecture before heading off to teach.
On the right hand side you'll see an elaboration of what tasks I planned to complete during my task block as well as a suggestion that I might consider swapping the deep work block with the task block (in the end, I didn't).
A Few Closing Notes
My goal in showing the above examples is to demonstrate the mundane reality of daily planning. It's not a super secret system, and it can be messy (especially if your handwriting is as bad as mine), but it's still absurdly effective at insuring that at the end of each week you look back and are proud of what you accomplished.