A New Book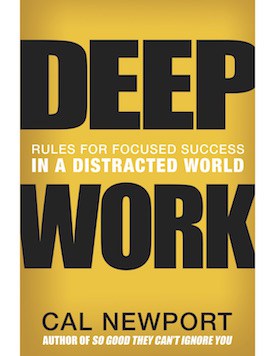 I'm excited to announce my new book, Deep Work: Rules for Focused Success in a Distracted World.
The book will be published on January 5th (though it's available now for pre-order). In this post, I want to provide you a brief sneak peek.
My Deep Work Mission
If you've been reading Study Hacks over the past few years, you've witnessed my increasing interest in the topic of deep work, which I define to be the act of focusing without distraction on a cognitively demanding task.
I firmly believe that deep work is like a superpower in our current economy: it enables you to quickly (and deliberately) learn complicated new skills and produce high-value output at a high rate.
Deep work is also an activity that generates a sense of meaning and fulfillment in your professional life. Few come home energized after an afternoon of frenetic e-mail replies, but the same time spent tackling a hard problem in a quiet location can be immensely satisfying.
There's a reason why the people who impress us most tend to be people who deployed intense focus to make a dent in the universe; c.f., Einstein and Jobs.
Focus is the New I.Q.
Which brings me to my new book…
Deep Work is divided into two parts. The first part is dedicated to making the case for this activity. In particular, I provide evidence that the following hypothesis is true:
The Deep Work Hypothesis.
Deep work is becoming increasingly valuable at the same time that it's becoming increasingly rare. Therefore, if you cultivate this skill, you'll thrive.
The second part of the book provides strategies for acting on this reality.
Drawing on my own habits, the habits of other adept deep workers, and reams of relevant science, I describe how to improve your ability to work deeply and how to make deep work a major part of your already busy schedule.
In this second part, you'll also find detailed elaborations of some of my more well-known ideas on supporting deep work, from time blocking, to fixed-schedule productivity, to depth rituals — in addition to many more tactics that I'm revealing for the first time.
More Information
If you want to learn more about the book, the Amazon page includes the full flap copy as well as the nice endorsements it received from Dan Pink, Seth Godin, Matthew Crawford, Adam Grant, Derek Sivers and Ben Casnocha.
You can also read this extended excerpt on Medium that discusses how a star professor uses deep work to dominate his field.
The book will be released on January 5th but is available for pre-order today on Amazon and Barnes and Noble.