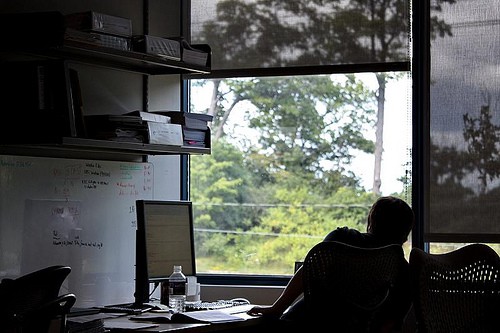 The following line is from an e-mail I recently received from Georgetown's HR department. It references "GMS," the slick new database system they installed to unify all employee services:
Please remember to log in to GMS a few times each day to check your Workfeed for any items requiring your attention and/or approval.
Among the tenure-track faculty, the message was a source of amusement: the idea that professors at a research university should be checking with the HR department several times a day, just in case there is some administrative task waiting for them to complete, runs counter to everything we've ever been taught about how people succeed in academia.
I'm mentioning this note here, however, because I saw it as an example of a deeper principle currently shaping the American knowledge work environment — a principle with destructive consequences.
The Convenience Principe
Motivating this request from Georgetown HR was convenience. If every employee checked in daily with that department, a lot of the administrative processes required to operate a large university would run more smoothly. This would make peoples' lives easier, therefore the policy is justified.
I argue that this convenience principle is at the core of how knowledge work organizations decide which work habits to keep and which to discard, especially when these habits involve technology.
Consider, to give a more general example, e-mail. There are no shortage of strong arguments that living your day in your inbox prevents long, uninterrupted thought, which in turn greatly reduces the value of what you produce and the rate at which your skills improve.
Nicholas Carr almost won a Pulitzer last year for his book on this phenomenon, The Shallows, which was based on his earlier Atlantic article, titled "Is Google Making Us Stupid?".
So why hasn't there been any major changes to how American organizations use e-mail? The convenience principle stops them.
If you subscribe to this principle, all it takes to argue back against a critic like Carr is a list of examples where restricting e-mail in any way would lead to inconvenience.
Here is English professor Ben Yagado, in the pages of The New York Times, arguing against John Freeman's 2009 book, The Tyranny of E-mail:
"[Freeman] writes that 'one of the biggest generators of excess mail is a medium-size message sent to a group of people, which then causes a pinball effect'…And the problem is? In [my inbox right now such a discussion is going on]: I asked a question and got helpful responses. Freeman says what I should have done is 'pick up the phone.' Really? Take the time to make 50 separate calls?"
This is a typical argument from convenience: Yagado's dismisses Freeman's broad critique of e-mail because he has a specific example where e-mail made something easier. Case closed!
This principle is also common in discussions of social media. Two years ago, I wrote an article about college students quitting Facebook to improve the quality of their schoolwork. Many other students have since written me with similar tales.
In most of these cases the students were in serious trouble due to constant distraction.
The student profiled in my article, for example, was named Daniel. He decided to quit Facebook after falling to a 2.95 G.P.A.
His friends, however, were aghast at his decision to leave the social network and argued strongly against the action. Their airtight case? Certain activities, such as finding out about parties, would become less convenient.
The convenience principle is so ingrained in our culture that Daniel's friends believed that their argument that something would become less convenient was unimpeachable. Daniel, for his part, ignored them. He missed a few invitations, but not many. His G.P.A. jumped to a 3.95.
The Net Value Principle
Due to its ubiquity, it's easy to see the convenience principle as self-evident. I argue that it's actually contrived and harmful.
To understand this perspective, let's contrast it to an alternative. The goal of any knowledge work organization (or student, which is really just a one-person knowledge work firm) is to produce information that is rare and valuable. With this in mind, consider the net value principle of selecting work habits. This principle says that the adoption of a work habit should be based solely on its net effect on the value produced by the organization.
This principle also sounds obvious, but when you dive deeper into its implications you'll find that it often conflicts with the conclusions of the convenience principle. The reason for this conflict is that convenience often has nothing to do with value.
Indeed, producing value can often be a quite inconvenient process for those involved…
Case Study: A Software Company Without E-mail
Here's a hypothetical scenario, imagine a software shop that decides its programmers should not have e-mail. To flesh out the hypothetical, we need a few more details on how they manage without this technology:
To handle the administrative details needed to run a business, imagine the firm hires a dedicated administrative coordinator to stop by each programmer's office once a week to gather any needed information and promulgate any new policies.
Also imagine that projects are managed with project management software. This allows team members to keep track of who is working on what, report bugs, and keep track of the project status.
From the perspective of the convenience principle, this e-mail policy is a disaster. It's substantially easier for the HR department to send out a quick e-mail whenever they need information from employees or need to announce a new policy. In fact, there are times when an announcement really needs to be made right away and can't wait until the weekly one-on-one meetings are done. Handling such cases would be really inconvenient.
The same inconveniences hold for interaction among programmers. When a question arises it is incredibly easy to immediately shoot off an e-mail. This gets the questions out of your mind and abdicates your responsibility to keep track of it. Furthermore, if you're in an e-mail culture of quick response it means you can expect the instant gratification of receiving the information you need when you need it. Without e-mail, it might take hours to resolve such issues. This is also really annoying. There could even be cases where this holds up progress on a project.
From the perspective of the net value principle, however, this e-mail policy might be a big win. The net value principle doesn't care if a policy makes employees' lives less convenient or occasionally holds up projects. It's relentless concern is with the bottom line. If forcing programmers to work in monastic focus leads to a net increase in their abilities and therefore a net increase in the value of their code, then it is worth doing.
Similarly, the net value principle would tell Ben Yagado, the e-mail apologist quoted above, that unless his sole job responsibility is to gather responses to questions from large groups of people, that particular convenience of e-mail is irrelevant. The only question that should matter to him is whether e-mail, as he currently uses it, leads to a net increase or decrease of the value of the scholarship he produces as a professor.
If it leads to a net decrease, he needs to change — even if he can no longer conduct quick polls of friends.
The net value principle would also remind the friends of Facebook-free Daniel that whether or not they can come up with specific things that Facebook makes easier is irrelevant. Daniel should care about his overall experience as a student. Reducing his study time and stress, and increasing his G.P.A to a 3.95, turns out to be a big win when weighed against the downside of occasionally requiring his friends to forward him a missed invitation.
Conclusion
For a long time, I've been frustrated with the conversation surrounding distraction and productivity in modern knowledge work. Everyone wrings their hands, but the lack of action is stunning (I can't think of any other social movement where there is so much consensus that something harmful is happening and yet so little systemic action taken in response).
The hypothesis I'm posing with this essay is that the problem lies in our focus in this conversation. We are discussing the superficial — specific habits we don't like — when we need to be discussing the underlying principles that keep pushing us back to these habits.
Such an approach can lead to real insight. We might decide with confidence, for example, that in some organizations some supremely distracting habits lead to increased value. While in other organizations, we might find similar confidence in eliminating technologies that make life easier but output weaker.
The point is that we would gain a meaningful way to explore these options and ultimately take meaningful action when needed.
(Photo by The Other Dan)