The Importance of Your College Major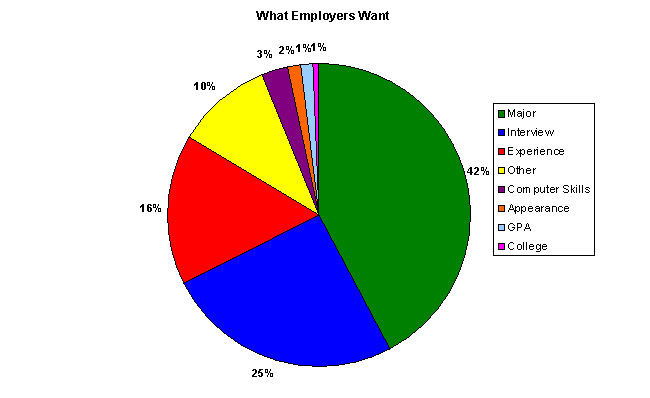 Late last week, Ryan Healy, over at the Employee Evolution blog, put up a post titled: Choosing a college major. His message was simple:
I believe the smartest thing a confused undergrad can do is to choose a major with a good job market.
The response was quick and heated. Within days, 15 comments popped up. Many of the reactions, including one written by me, strongly disagreed with Ryan. "Employers don't care what you major in," we said. "Choose something that interests you and do well."
But were we right?
The Experts Weigh In
I decided to do some research. The first study to catch my attention had been conducted by the job search web site CollegeGrad.com. They had recently conduced a survey of "top entry level employers" to determine what they were looking for in a new hire. The results:
#1 – The student's major (42%)
#2 – The student's interviewing skills (25%)
#3 – The student's internships/experience (16%)
#4 – Other miscellaneous qualifications (10%)
#5 – The student's computer skills (3%)
#6 – The student's personal appearance (2%)
#7 – The student's GPA (1%)
#8 – The college the student graduated from (1%)
In other words, this particular survey supports Ryan. Your major, it seems, is important. Choose the right major for the job market or you won't get a good job.
But Wait…
Before closing the book on the topic, let's be good scientists, and take a closer look. The press release for the study includes quotes from 22 of the participating companies. A review of these quotes reveals the following:
Four companies said major matters because their employees need a specific technical skill. For example, Intel really does need people who majored in computer engineering.
Three companies said that major matters in the more general sense. For example, a business degree might look more attractive than a liberal arts degree.
Five companies didn't explicitly describe what they are looking for in their hires.
Ten companies either explicitly said that major doesn't matter or listed traits other than major as the most important in their hiring criteria.
This paints a completely different picture.
Only 3 out of 22 companies in the sample quotes described one's major as being important outside of the case where specific technical skills are needed for the job.
This suggests a different interpretation. Perhaps, most of the 42% who choose an applicant's major as being the most important were companies that were hiring for a specific technical skill. If this is the case, then we haven't learned anything new. Aspiring rocket scientists know they need to major in engineering.
But what about the rest of us…
A Better Study
The CollegeGrad.com survey makes me nervous. For one thing, the sample data doesn't square easily with the summary results. For another, the survey is not scientific. It was a voluntary web-based poll. And, in general, I tend to treat with skepticism any study that is presented alongside banner ads of dancing aliens hawking low mortgage rates.
As I usually do in this situation, I turn to my favorite academic journals. In this case, I soon found my way to the always illuminating: Economics of Education Review.
The article that caught my attention: Education and job match: The relatedness of college major and work.
This study was conducted by John Robst of the University of South Florida, and was published in August of 2006. Robst analyzes data from the 1993 National Survey of College Graduates dataset. He was interested, roughly speaking, in how many students enter careers that are related to their college major and how this affects their wages.
The Findings
The study includes several interesting findings:
Around 55% of graduates land a job that matches their major. Another 25% have jobs that partially match their major. The remaining 20% have jobs that don't match at all.
The majors that are most likely to lead to unrelated jobs include: "English and foreign languages, social sciences, and liberal arts." Majors such as computer science, engineering, library science and business management tend to lead to related jobs.
Graduates with jobs unrelated to their major tend to earn less money than graduates with related jobs. If their job partially matches, however, the difference in wages from having a matching job is small.
This "mismatch penalty" comes almost entirely from graduates with technical majors taking on unrelated jobs. If you major in "business management, engineering, the health professions, computer science or law," you can face a more than 20% drop in wages by taking a job unrelated to your major.
For liberal arts majors whether or not your job matches your major does not effect your wages. The results here were statistically insignificant.
Conclusions
The Robst study illuminates the some interesting mechanics lurking behind this issue. My read of this data is as follows.
Jobs that require a specific technical skill — such as engineering or computer science competency — pay more money. This is not surprising. Therefore, if you want to maximize the amount of money you make out of college your best bet is to major in a technical major.
Outside of these technical majors what you study doesn't matter when it comes to later wages. The Robst analysis demonstrates that for liberal arts majors your salary is basically unaffected by whether or not your job matches your field of study. For social science and education majors there is some effect, but it's minor.
More analysis is needed to tease out the importance of business majors. The study shows that business majors that take business jobs make more money than if they take jobs unrelated to this field. That is not surprising. Business management jobs tend to pay more than other non-management jobs. The question, however, is whether these same business jobs are open to non-business majors. The data could be read two ways. One is that these jobs are not available to non-business majors. This is why we do not see liberal arts majors having an increase in wages by working in unrelated fields (which includes business). The other interpretation is that liberal arts majors, in general, are not interested in business jobs. So the increased salary effect doesn't show up due to lack of interest, not lack of access.
My conclusion for undergraduates looking ahead to the job search:
Major in what you like. If you don't like science or engineering, but major it in for the money, you are likely to end up, down the line, in an unrelated job you like more. And once you leave your field of study your salary benefits disappear. You would have been better off studying something you liked in the first place. Similarly, if you are not interested in a technical job, then choose the liberal arts or social science major that interests you most. The data shows that it won't matter whether or not your job matches your major.
In some sense: all non-technical majors are created equal. And if you like what you do, you are more likely to get better grades and become involved in the type of projects recruiters like.
What is your experience regarding the importance of the college major in the job searching process?