Schedule Shut Down, Complete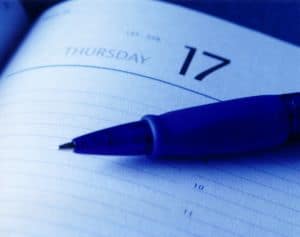 Here's what happens, without exception, at the end of my normal work day.
First, I make sure my master task lists are up to date. During the day I tend to collect todos in a text file on my computer desktop because it's fast and easy. I also have a small spiral notebook that I use to capture things when I'm away from my desk. (I always have this with me!) I transfer everything new from these collection bins into my master task lists.
I then read over these lists in their entirety. If something pops out as being somewhat urgent, I set its due date for the near future. Because I use Google Tasks, this means it will show up on my calendar as well. I do this review every day so that I trust that if I put something on a task list, it won't be forgotten. Without this trust, the tasks would still percolate around my brain.
Next, I review my calendar for the next two weeks. I confirm what appointments and deadlines are coming up.
Then, I review my plan.txt file where I keep my unstructured plan for the week. I often add a little annotation about what got done that day and how I will revise the weekly plan for the remaining days (if needed).
Finally — and I'm somewhat embarrassed to admit this — I close down my computer and say the magic phrase: "schedule shutdown, complete."
Here's my rule: After I've uttered the magic phrase, if a work-related worry pops to mind, I always answer it with the following thought process:
I said the termination phrase.
I wouldn't have said this phrase if I hadn't checked over all of my tasks, my calendar, and my weekly plan and decided that everything was captured and I was on top of everything.
Therefore, there is no need to worry.
What I don't do is think through the specific worry. Thinking through a specific worry can trigger stress. The above thoughts do not trigger stress. They're also pretty damn convincing, and thus tend to banish the original thought. (After a while, my mind has learned to trust this system, so I rarely have such thoughts arise now.)
I call these actions my work shutdown ritual. I initiated it as a New Years Resolutions this past winter. I didn't have a lot of work related stress at the time, but I liked the idea of getting the absolute most out of my relaxation time.
I'm happy to report that it has worked better than I imagined. I've basically eliminated stressful work-related thoughts from my evenings and weekends. As you might expect, this has really improved my ability to relax and focus on other things.
I'm not sure that my particular ritual is right for everyone. But I urge you to consider the general concept. To form a good ritual you just need three things:
A quick series of steps for getting back on top of what's going on in your student or working life; something you can do in 5 minutes at the end of each day.
A phrase you say when you complete the ritual.
An agreement with yourself that after you've said the magic words, the only acceptable response to a work-related thought is to think through the steps required for you to say the termination phrase.
It's a simple idea that generates big returns. Consider giving it a try.