The Remarkable Life of Erez Lieberman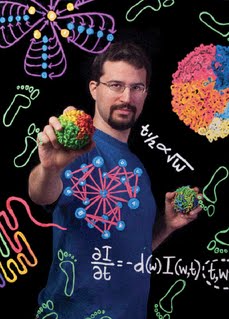 Last week, a reader sent me a profile of the scientist Erez Lieberman. Now I'm obsessed.
Lieberman is a Junior Fellow at Harvard's elite Society of Fellows and a Visiting Faculty member at Google. He's a boldly interdisciplinary mathematician who prizes interesting projects above all else. "I'm always on the lookout for new methods that I think will open up whole new domains," he explained.
Lieberman cracked the 3D structure of human DNA, showing that our genes are packed in an esoteric geometric whimsy known as a fractal globule.
He used graph theory to improve our understanding of evolution.
He sifted through Google's massive database of scanned books to search for statistical evidence of cultural shifts.
The six papers he lists on his web site were all published in either Science or Nature. Two were cover articles. He's been featured on the front page of the New York Times, was a Tech Review 35 under 35, and won the $30,000 MIT-Lemelson prize for innovation.
He's also only two years older than me.
Lieberman represents my dream of an academic career done right. He swings for the fences with wildly interesting projects which earn him recognition, but more importantly also earn him freedom. At this early point in his career, he can work on what he wants and where he wants. He's constructed a life centered on intellectual novelty, and it's remarkable.
The reason I'm writing this post, however, is what happened after I first encountered Lieberman's story.
The Case Method for Defeating Procrastination
After encountering Lieberman's profile, I dived deeper — deconstructing his CV, reading other articles on his life, and watching videos of his talks. I drew on this detailed understanding to tweak my recently unveiled research process (a process, I was happy to discover, that is already similar to how Lieberman approaches his work).
Among other things, I revamped the little bets piece to be more ambitious and boldly interdisciplinary. I also turned up the aggressiveness with which I planned to attack them.
Along with this newly improved and validated research process came a boost to my motivation to follow it. The idea that I might ignore this plan now seems inconceivable.
I'm telling you this story because it captures an axiom that applies well beyond just success in academia: one of the most effective ways to sidestep procrastination is to find the story of someone who personifies what you want to accomplish, figure out how they accomplished what they did, then base your process on their approach.
I call this the case method for defeating procrastination. It's simple but it's also powerful.
Of course, the fact that the case method works well makes sense in light of my recent posts on an evolutionary explanation for procrastination. These posts argued that procrastination is not a character flaw, but instead our mind rejecting a plan that it doesn't trust (a behavior it has evolved to do).
The case method helps avoid this rejection by building this required trust. When you extract a plan from a story that generates deep aspirational longings, you're deploying a powerful recruiting tool to get your brain — especially the long ago evolved portions that respond well to such emotion — on board with your plan. The result: no procrastination.
From Neatness to Effectiveness

The fact that the case method works well surprises me less than the fact that it's deployed so rarely.
When we face a big goal in our lives, we're attracted to convenient strategies — something that fits our personality and schedule, and that wraps up in a nice internally consistent logical bow. But we have no reason to believe these easy strategies will work particularly well, which makes them susceptible to evolutionary procrastination.
The case method, by contrast, is difficult and can produce strategies that are less convenient. (Lieberman's approach to research, for example, requires an aggressive, almost obsessive attack on potentially interesting directions and expects nine out of ten such attacks to fail.) But you can also trust that the strategies it generates will probably work — making them much less susceptible to procrastination.
In other words, if there's something in your life that's really important that you accomplish: don't just dive in. Start by finding someone who has already made it happen then put in the time to figure out exactly what they did right.
#####
This post is the third in my series on rethinking the causes and cures for procrastination. Previous posts:
(Photo from erez.com)