Update (7/8/09): I've returned from California and am once again online. (The picture below is of the trip; I'm the guy in the back.) I have 30 – 40 e-mails from readers, built up during my absence, that might take me a while to work through, so excuse the delay in my responses. I will eventually get back to everyone.

In Praise of Grittiness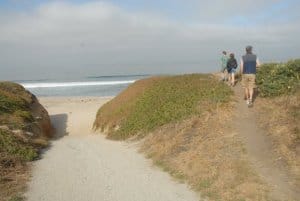 While on vacation, I read two books. The first was Matthew Crawford's Shop Class as Soulcraft: An Inquiry into the Value of Work, which has been causing an idealistic stir among the usually cynical intelligentsia. The second was Winifred Gallagher's Rapt: Attention and the Focused Life. Both intrigued me, though I'll admit that I'm still processing the ideas. You'll probably hear more about them from me at some point in the future.
Today, however, I want to briefly mention one piece of social psychology research, described by Gallagher in Rapt, that resonates well with our conversation here at Study Hacks.
Gallagher cites the research of Angela Duckworth, a psychologist from Penn. Since 2005, Duckworth has been studying a trait called "grit," which she describes as follows:
Grit entails working strenuously toward challenges, maintaining effort and interest over years despite failure, adversity, and plateaus in progress. The gritty individual approaches achievement as a marathon…
She maintains that grit is "essential to high achievement."
Quoted by Gallagher, Duckworth also notes: "We don't give enough attention to the 'effort' and 'duration' pieces of accomplishment…Life is relatively short, so don't labor under the delusion that you can keep switching your focus from goal to goal and get anywhere."
But what if you're not sure what goal is right for you?
"[Eventually] perhaps you should settle down with the best thing you've found, and focus on it," she concludes.
As usual, there's also a nice selection of peer-reviewed research to back up these ideas. In a 2007 paper, for example, titled Grit: Perseverance and Passion for Long-Term Goals, Duckworth, along with collaborators from the University of Michigan and West Point, demonstrate that grit plays an important role in achievements spanning from becoming spelling bee champion, to Ivy League GPA, to overall educational attainment in life.
Grit vs. Grind
The idea of grit is not new to Study Hacks readers. With sufficient squinting of the eyes, it can be found at the core of the Steve Martin Method, my pleas for more boredom tolerance, the A* strategy, and, most recently, my coronation of hard focus, just to name the most obvious examples. In short, I've informally observed this trait to be important for achievement for quite a while. It's only now, however, that I've learned that (at least some) researchers agree.
That being said, I must admit that reading Duckworth's articles, with their straightforward praise of gutting it out ("his or her advantage is stamina," she said, describing a gritty personality), inspired a tinge of doubt: What separates the lauding of grit from the lauding of the grind lifestyle? This question is crucial to our mission here, as, of course, being happy and low-stressed is one of the key pillars of my philosophy.
After some thought, I arrived at an answer:
The grind lifestyle involves filling most days with an unhealthily large amount of work. It treats the overwork itself as the goal, not its results. This chronic overwork, in turn, generates stress and deep procrastination.
Grit, on the other hand, is about persistently accomplishing a reasonable amount of hard work. For example, consider my book writing. I spend 1 – 3 hours a day, most days, on this task. I've been doing this off and on for six years now. These are hard hours, requiring real hard focus. But they're not many hours — so they're not a source of overwork or stress in my life.
A Familiar Mantra
This distinction highlights the central message of the grit philosophy: maintain a small number of things that you return to, and do hard work on, again and again, over a long period of time. Choose things that actually interest you, but don't obsess over choosing the perfect things — as perfect goals, like perfect majors, probably don't exist. Keep this hard work quarantined to a reasonable number of focused hours each day, and harness the rest of the time to recharge, relax, and, in general, enjoy life. Or, to put it in a more familar wording: Do Less. Do Better. Know Why.
Sounds about right to me…