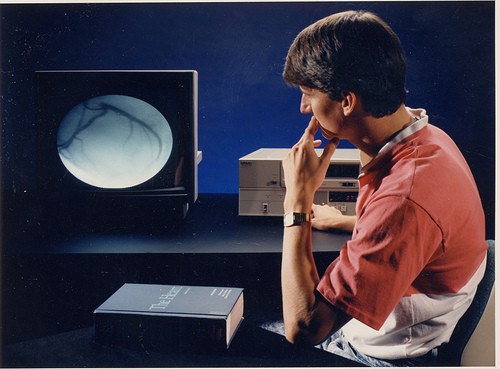 The Emersonian Doctoral Candidate
I'm flying down to Duke on Tuesday to speak with their graduate students. Preparing for the event inspired me to reflect on my own student experience. In doing so, an Emerson quote came to mind:
"To different minds, the same world is a hell, and a heaven"
Emerson does a good job of capturing the reality of a research-oriented graduate education. Even though students enter such programs — especially at top schools — strikingly homogenous, in terms of their educational backgrounds and achievements, after a few years, the group tends to radically bifurcate.
Some students love the experience and thrive. They dread the possibility that they might have to one day leave academia and take a "normal job." To them, graduate school is Emerson's heaven.
Other students hate the experience and wilt. They complain about their advisors, and their peers, and the school, and their busyness. They can't wait to return to a "normal job." To them, graduate school is Emerson's hell.
I began to notice this split about halfway though my time at MIT. I loved graduate school, so I was mildly surprised, at first, to encounter cynical students secretly plotting to abandon ship after earning their masters degree, or to stumble into dark blogs with titles such as, appropriately enough, Dissertation Hell (" a place to rant…about the tortures of writing a dissertation").
Why do such similar students end up with such different experiences?
Because I happened to be a professional advice writer at the same that I was a student, I studied the issue. I think the answers I found are important to our broader discussion because this Emersonian division is common in many professions, and understanding its cause helps us better understand the complicated task of building a compelling career and the pitfalls to avoid.
Directed vs. Drifting Careers
Graduate students who experience Emerson's heaven tend to aggressively seek out and develop expertise. Once they have this expertise, they use it as leverage to control their project choices, collaborators, and workflow.
The students who experience Emerson's hell are more passive. They approach graduate school like college — waiting to be assigned tasks that they can work real hard to complete. Their theory is that hard work alone should yield good results. This theory, of course, is flawed.
When you're passive about the direction of your student experience, you tend to end up with projects you do not like, bogged down with tasks no one else wanted to do. Over time you'll begin to see the work as a negative force — leading to cynicism and diminishing motivation.
This division is important because it applies to many different professions. The employees (or entrepreneurs) who thrive tend to actively direct their career using the tenets of Career Capital Theory, just like the successful graduate students.
Those who struggle tend to drift through their working life, hoping, usually in vain, that by simply working hard and doing what they're told, they'll end up with a compelling livelihood.
The Passion Pitfall
There are two reasons to discuss these observations. The first is positive: when you understand the dynamics of crafting a compelling career you're better able to harness them in your own life.
The second reason is negative: Understanding the difference between directed and drifting careers underscores the danger of common career advice; most notably, the ubiquitous entreaty to "follow your passion."
Apologists for this reductionist theory often claim that it's worth propagating, because if it helps even one person build the courage to pursue a dream, the effort becomes worthwhile.
But as emphasized by the above discussion, things are not so simple.
Here's what worries me: When you persuade someone to obsess over the match between their work and a mysterious, innate, pre-existing passion (which, for some reason, we assume everyone has, even though the evidence suggests the opposite), you're setting them up for career drift.  Passion theory says that your passion pre-exists, so when you find the right job, it will be right from day one.
In reality, as we've just seen, a particular job is not likely to become a source of passion until you've been actively directing it — sometimes for years — in the right direction.
By telling someone to "follow their passion," therefore,  you are, quite ironically, reducing the probability that they'll end up passionate about their work.
To put things another way, the division between Emerson's heaven and hell is permeable and one we should all hope to cross in the right direction. But we need to understand that this is an active effort, conducted over time, and not the result of a simple match made at the very beginning of our career.
(Photo by USUHSPAO)