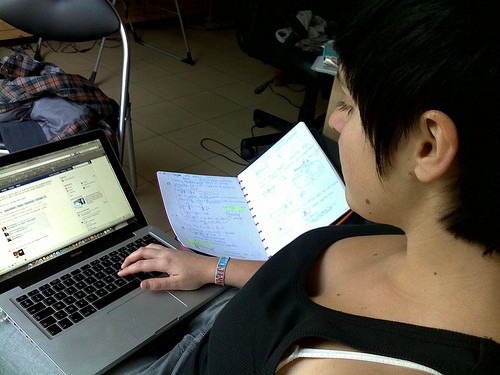 The Stanford Consensus
My technology habits are eccentric. I use an old fashioned, non-Internet connected Samsung flip phone with a postage-stamp size screen. I'm not on Facebook or Twitter, and my RSS reader is an emaciated husk, subsisting on a small number of feeds, mainly the blogs of friends. Long ago, I configured Gmail to automatically mark every message as read when it arrives in my inbox, frustrating my attempts to perform distracting quick scans for new messages during the day.
The rational foundation of my eccentricity is the increasingly alarming research coming out of Stanford's Communication between Humans and Interactive Media (CHIMe) lab.  Pioneering researchers from this lab are converging on a scary consensus. It's long been understood that you're less productive when you're constantly switching your attention; that is, the claimed benefits of multitasking are false. Researchers  at the CHIMe lab, however, have found that the impact of electronic multitasking goes beyond the momentary sense of distraction, it can also create permanent changes in the brain.
As reported in a recent New York Times article, subjects who were identified as multitaskers did "a significantly worse job" on experimental tasks that required them to filter out irrelevant information — even though they weren't multitasking during the experiment.
"Other tests at Stanford," reports the same article, "showed multitaskers tended to search for new information rather than accept a reward for putting older, more valuable information to work."
Or, as Clifford Nass, a communications professor at Stanford, summarized: "the scary part for [multitaskers] is they can't shut off their multitasking tendencies when they're not multitasking."
This is why I invest so much effort in isolating myself from electronic distraction. In my two fields, theoretical computer science and writing, the ability to focus on hard things for long uninterrupted periods is my most valuable currency.  If I lose this ability, I might also lose my livelihood.
As the computer scientist Donald Knuth once said, "Email is a wonderful thing for people whose role in life is to be on top of things. But not for me; my role is to be on the bottom of things."
The Danger to Students
That's the rational explanation for my behavior. If you want the emotional explanation, however, turn your (perhaps distracted) attention from Stanford's CHIMe lab to my blog e-mail inbox.
I consult with around one to two dozen students a week — offering advice on how to find sustainable success. Over the three years I've played this advisory role, I've noticed an alarming trend: The current crop of undergraduates, who went through high school in an era of Facebook and smart phones, is suffering from serious concentration issues. I receive an increasing number of e-mails from students who have an expert level knowledge on how to study, but are simply incapable of giving the task at hand more than a few minutes of concentration before seeking what the Times article aptly described as the "dopamine squirt" that comes from discovering a novel stimulus.
This recent e-mail is typical of those I receive:
I've read your red book, I have an autopilot schedule, I have a to-do list, I block off specific times for each task…and yet I procrastinate like crazy…I have a very difficult time following through.
The sad news is that, according to the Stanford consensus, the longer students have spent working in a semi-distracted state, the harder it becomes to rebuild an ability to concentrate on something hard, like a knotty chapter from a philosophy text, or a tricky calculus problem set.
This leads me to the deliberately provocative title I gave this post. When a parent allows a son or daughter to study in a state of distraction, the impact goes well beyond the assignment at hand. This behavior could be rewiring the young students' brain, making it all but impossible for him or her to perform the feats of increased concentration required later at college and beyond.
Resisting Disconnection
Surprisingly, when I advise parents of the necessity of enforcing focus (my most infamous advice being to remove the cable connecting the modem to the router during homework time), I'm often met with equivocation.
And, I'm not the only one noticing this trend.
The above-mentioned Times article profiled a hyper-connected family in which the young son, Connor, started receiving his first C's due to an inability to focus on his homework — an outcome that's not surprising considering that he shares his work desk with two computer monitors, "one with his music collection, one with Facebook and Reddit." He also adds to the din an iPhone relaying a constant stream of text messages.
Faced with this obvious problem, Connor's always-connected father, baffling, expressed pride in his son's distraction. "He's a fact hound," the father bragged. The mother, who is perhaps more aware of the problem, nonetheless threw up her hands, claiming that technology is "part of the fabric of who he is."
I get similar responses to my own pleas with parents. In addition to the traditional apologist tropes about the Internet's advantages — Improved visual acuity? The ability to do faster Google searches? Really? This justifies a persistent state of unadulterated distraction? — I also hear contrived scenarios in which being online would add some incremental benefit to the school work at hand (the need to look up word definitions is a common explanation).
A Crusade Begins
This is where I'm drawing my line in the sand. The tired debate on the advantages and disadvantages of hyper-connectedness is fine for adults. A 27-year-old, such as myself, can make his own decision about what mental skills are important. But for teenage students, immersed in a developmental stage where impulse control is dangerously weak and the brain is at a peak of malleability, guardians should have some responsibility for helping to preserve their ability to focus. The teenagers can choose to discard this ability later in life, but by allowing a 15-year old to study while bombarded by three screen's worth of distraction — even if he is a fact hound, and it's part of his personality, and he might need to quickly look up a word he doesn't understand — you're making this choice for him.
I'll continue, of course, in my role as an informal source of student advice, to preach the benefits of sustaining focus during this fragile period. Are you willing to join me?
(Photo by worak)