Note to Readers: I'm hitting the road this afternoon for a four-day trip. Because of this, I'm posting Friday's article one day early so that you'll get a full three pieces this week. Please excuse me if I'm slow to moderate comments or answer e-mails in the near future, my computer access will be limited. Enjoy your weekend!
Med School Mania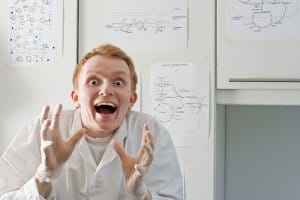 Students looking to medical school are often some of the most overworked, overstressed students on campus. It has become accepted wisdom that going pre-med is one of the toughest academic paths you can follow.
But does it have to be this way?
Over the past few months, I've heard from a variety of students who have recently gone through the med school admissions process. I also had the privilege of talking with someone who could offer an insider view of how the admissions decisions are made at an elite medical institution (which will remain nameless). In this article, I have two goals. First, I want to draw from these conversations to identify the factors that really matter for med school admissions. Second, I want to discuss how to design a low stress schedule that still maximizes these key areas.
Following the standard Study Hacks approach, my goal is not to offer hidden shortcuts, but, instead, to help you eliminate the waste and inefficiency that makes what could be a reasonable journey unnecessarily hard.
What Matters for Med School
To the best of my understanding, the following factors are what matter for a med school admissions decision:
Where you went to school.
Your G.P.A.
Your MCAT score.
Evidence that you have a real interest in medicine and a good understanding of what the lifestyle entails.
That's it. Keep this in mind: med school is not college. The admission decisions do not come down to who has the more extravagant (and punishing) collection of extracurricular activities and the hardest possible combination of majors. For most schools, if you have high grades and MCATs, and a solid collection of relevant activities, you'll get in. A big goal of this article will be to free you from the degenerate mindset that if you're not suffering on your way toward med school then you're doing something wrong.
How to Accomplish these Goal with a Minimum of Stress
The happiest med-school bound students I've met, have followed, more or less, the following advice:
Major in whatever you want. Just make sure you also take the required pre-med courses.
Spread out your pre-med courses to avoid killer terms.
Don't participate in any time-consuming extracurricular activities during the school year. Just do light things that you find fun and that relax you without eating up your time. (Worry not, we'll return to when you can do extracurriculars in points 6 and 7.)
Make your courses your main focus. If you find yourself working late the night before exams, you have too much on your plate. Cut back on activities and spread out hard courses more to keep your schedules more manageable.
Definitely do not double-major in biology or chemistry and something else hard. This will make avoiding killer semesters almost impossible. In fact, it's not a bad idea to avoid majoring in biology or chemistry all together. For someone who is not naturally drawn to these subjects, taking the required pre-med courses is easier than taking the required pre-med courses plus all the other courses needed for those particular majors. A lot of pre-med types feel like they are so supposed to have punishing course loads. This is not true. Go out of your way to avoid it.
Every summer, focus on something that exposes you to the real world practice of medicine. This is perhaps the most important point underpinning this low-stress philosophy: isolate med school related extracurriculars to the summers. The resulting stress reduction is intense without reducing your impressiveness.
If you're competing for spots in the best possible med schools — those in which all applicants have top GPA's and MCATs, here's the secret to making your extracurricular pop: organize your own program. Often this entails taking an experience from earlier summers than adapting it somewhere new. For example, perhaps you intern at a clinic one summer, then the next summer you organize a similar internship program at a different clinic. Another insider tip: consider a senior thesis on a topic involving community-level health issues. This provides the rationale — and makes it easier to find student funds — to launch a pilot program or gather firsthand experience. Under no circumstances, however, should you try to pile up a large quantity of vaguely related extracurriculars during your school year. I know this is your instinct. I know this is what you think got you into college. But med school is not college! Such an approach will saturate your schedule in stress, and it still won't provide more impact four summers of focused, medicine-related, self-initiated work.
Start studying for the MCAT very early. Get to the point that you can score high without breaking a sweat. These are really important. Much more so then the things that cause pre-meds the most stress (i.e., too many majors, too hard course loads, too many unnecessary extracurriculars.) Take advantage of this reality by putting your focus here, where you'll get the most bang for your buck.
Why This Works
This approach generates what has been identified to me as the ideal med school applicant: someone with high grades, high MCAT scores, and a solid collection of relevant medical activities. The key, however, is that you can accomplish these goals without having to have your semesters overflow with multiple hard courses and demanding activities. Or so I hypothesize…
As usual, I conclude by turning things over to you guys — the real experts. What are your insider tips for finding a relaxed path into med school?
(photo by Okky Pyykko)