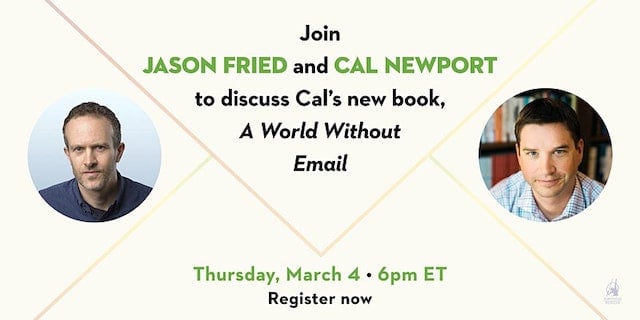 A Deep Discussion
Jason Fried is one my favorite thinkers about workplace innovation. Basecamp, the company he co-founded, has been an inspiring incubator for knowledge work experimentation, from reduced work weeks, to office hours, to remote work, to the development of custom-built communication tools. Fried has documented these ideas in the bestselling books he co-authored, including Rework and (the suddenly timely) Remote, and on the famed Signal v. Noise blog. I featured Jason in Deep Work, and he's featured again in A World Without Email.
Which all underscores my excitement to announce that to celebrate the launch of my new book, A World Without Email, the Politics and Prose bookstore here in Washington DC will be hosting a live virtual conversation between me and Jason at 6:00pm ET on March 4th.
Tickets are free but you have to register in advance here.
We will be discussing our current moment of overload and what might be required to solve it. We'll dive deeper into my book, learn from Jason's real world experiments, and even get into some friendly debates on the areas where our visions' differ. Should be an exciting conversation.
To help support Politics and Prose, if you order A World Without Email directly from their store, you can get a copy signed by me (while supplies last). Details are on the event registration page. 
A Request for Help
I would also be remiss if I didn't remind you of the pre-order campaign I'm currently running. If you pre-order a copy of the book (in any format, from any retailer) by March 2nd, and register it here, you'll be immediately sent a long excerpt from the book and access to the Email Academy video series I recorded exclusively to thank my longtime readers for supporting this title.
(Putting aside the "bonuses" for a moment, the main reason I'm emphasizing pre-orders is that it really helps the book launch by indicating to book buyers, bestseller lists, etc., that there are people out there who are interested in these types of ideas. So you have my deep personal appreciation as well if you're willing to help out in this way.)