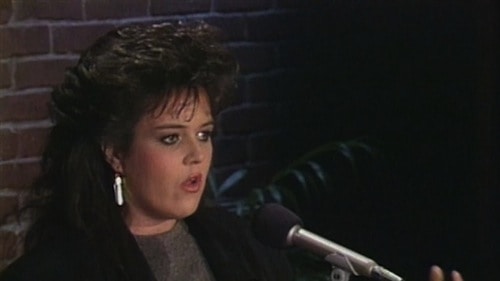 O'Donnell's Ten Year Big Break
Last month, Rosie O'Donnell appeared on Here's The Thing, Alec Baldwin's NPR interview show.
The episode, if heard casually, gives the impression that her break was rapid and inevitable. As a high school senior, we learn, she wrote comedy skits for a school variety show. A local comedy club owner liked the skits and invited O'Donnell to perform a set. She killed.
At this point, it was clear that she would become a comedian. Her break came later when Lorne Michaels and Brandon Tartikoff (former NBC chief) happened to hear her perform at a club where they had come to audition Dana Carvey.
Tartikoff came up to O'Donnell after the show and said simply: "Hi. I want you to call this number at NBC tomorrow. We have a job for you."
Television, then movies, then her talk show — it all fell into place after that key moment.
This is a classic big break. But if you listen closer to the episode it becomes clear that it was not out of the blue. While telling this story, O'Donnell, as an aside, clarified the timeline of that fateful night by noting: "[Remember that at this point] I had had a decade under my belt of doing standup, right?"
O'Donnell's big break, in other words, was ten years in the making…
Competing Big Break Theories
If you study people with remarkable careers they often tell stories similar to O'Donnell: they begin with a long period of anonymous striving followed by a break then rapid ascent (see also, Martin and Schwarzenegger).
There are two interpretations of this trend…
The first interpretation says that lucky breaks, by definition, are low probability events. Therefore, you have to open yourself up to opportunity again and again and again before you can expect one of these low probability events to finally occur. It took O'Donnell a decade to break out, according to this theory, because the probability that Lorne Michaels and Brandon Tartikoff show up at your show is really low.
The second interpretation draws from career capital theory. It tells us that lucky breaks are essentially impossible until after you have developed a rare and valuable skill. At this point, breaks actually become quite probable, so long as you are doing the right things to demonstrate your skill. This theory tells us that it took O'Donnell a decade to break out because this is how long it takes to develop comedy chops. The fact that Michaels and Tartikoff wandered into her show is inconsequential. Once she was excellent, some event like that was bound to happen sooner or later.
The problem with the first interpretations is that it leads people to bounce from thing to thing, always hoping that something unexpectedly hits big, never taking the time to produce real value.
The second interpretation tells us to instead focus on whether or not we have crossed the break threshold — the point at which you are so good you can't be ignored and a big break has become possible. It's really hard to cross this threshold in most fields, and if you're not explicitly pursuing this goal you'll likely end up in a purgatory of professional but unremarkable skill, playing half-empty clubs, hoping that the right executive happens to walk through the door.
#####
An Administrative Aside: From what I understand, Google Reader no longer exists. This probably explains why my RSS subscriber count recently dropped by 20,000! If you're an RSS subscriber, I've heard good things about Feedly. (My same RSS feed will work, you just need a new reader.) Also, I'm in the middle of a site redesign that will finish up in August/September. As part of this redesign, I'm launching an e-mail list that will allow you to receive my posts, plus some extra content, right in your inbox. Stay tuned for more details…