Complicated Goodness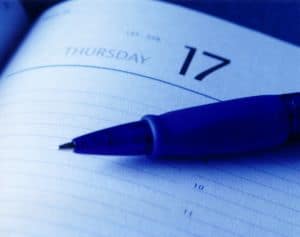 In July of 2007, the first month of Study Hacks' existence, I posted an article introducing Getting Things Done for College Students (GTDCS). This time management system was a modification of David Allen's Getting Things Done (GTD), tweaked for the college lifestyle. It was meant for students who needed something more than the simple system described in Straight-A or in this infamously titled post.
Here's the problem…
Though the original article has become a cult classic among some GTD aficionados, it has also been described as…well…long and boring and complicated and hard to follow.
There. I said it.
In this post, I want to provide a much more simple summary of GTDCS — something that doesn't require monastic concentration to understand. Below I hit the highlights you need to get started. If you crave the obsessive details, check out the original post.
GTDCS Made Easy
The GTDCS system is built of five pieces. The first three match GTD almost exactly. The last two contain the extra magic I threw in to fit the college lifestyle.
Collect
Consolidate
Review
Plan
Act
We review each piece below.
Collect
Every time a new obligation enters your life, immediately record it somewhere safe. The key is to have a small number of collection bins in which such new tasks are always captured.
For a student, I suggest the following three collection bins: a notebook in your backpack, your e-mail inbox, and a physical inbox as your collection bins.
(The physical inbox will prove useful for capturing letters, forms, or other physical pieces of paper that need to be dealt with.)
Consolidate

Once a day, review your three collection bins. For each item you encounter: if it's an appointment, meeting, or deadline, add an entry on your calendar, if it's a task, put it on a master to-do list you keep somewhere safe.
Review
Every Sunday, review what's on your calendar for the next few weeks and read through your master to-do list. This review is crucial. If you never look at your calendar or master to-do list, then you won't trust yourself to remember the things you put here. This will cause the whole system to fall apart.
Plan
Because you are a student, many of the tasks you face are time sensitive; e.g., assignments have to be done before class, studying has to be finished before the exam.
To accommodate this reality, include the following step in your Sunday review: add time sensitive tasks onto specific days on your calendar. Everything that absolutely has to get done during the upcoming week should be put on a specific calendar day.
Act
Each morning you need to plan your day. Your first step is to review your calendar and see what appointments, meetings, and classes you face. Next, plan a time to work on each of the tasks that was added to this day during the planning stages.
Remember: it's not enough to just say you'll work on these tasks, you must actually block out the specific hours in which you will work. This keeps your schedule reaslistic. Finally, if your day doesn't look too hectic, block out some time to knock of a few non-date sensititve tasks from your master to-do list.
The ideal work day will look roughly like a normal work day (all work done between breakfast and dinner), though some schedules might require work at night. Try to avoid, however, scheduling every waking hour. That is decidedly non-Zen.
Conclusion
If you're happy with your current time management system, don't sweat GTDCS. If you feel constantly behind, or like you're forgetting things, than consider this approach. We'll conclude the same way as the original article:
Many students identify the first few days of the semester as their favorite. Why? Because there are no obligations yet. No deadlines or due dates have been injected into their life. You can relax, and enjoy the sense of possibility. GTDCS aims to make every day feel like the first.
Sounds good to me.