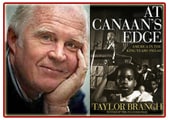 How a Pulitzer Prize Winner Writes
A few years back, I watched a CSPAN2 interview that changed the way I write major papers. The program was Booknotes, and the guest was Pulitzer Prize winner, Taylor Branch. What I like about Booknotes is that they sometimes venture into the author's office to get a feel for how he or she actually tackles the grimy business of research.
Branch did not disappoint. To research his three-volume biography of Martin Luther King Jr., he made use of a massive Microsoft Access database. In one table, he had a row for every source he read. The row contained all of the relevant bibliographic information and was labeled with a unique source identifier number.
In another table, he entered every quote from these sources that he thought provided insight. These might include, for example, a few lines from a letter he found in the Martin Luther King Jr. archives, or a provocative conclusion made in one of the myriad existing biographies. Each quote got its own row in the table. The whole text of the quote was entered, along with the date it was made on (or referred to), and, most important, the source identification number that links the quote to the relevant source in the source table. (This is called a relational database because the different tables connect on specific columns. Click here for a tutorial.)
When Branch finished his research, he had over 18,000 quotes and hundreds of sources. When it came time to write, he sorted his quote table by date. This allowed him to move chronologically through Dr. King's life. During important periods, Branch sometimes found that he had dozens of insider quotes for each day!
The key here is that the writing process had been simplified. It was just Branch and his database. As he moved through the important periods of Dr. King's life, he could efficiently and comprehensively consult every last relevant piece of information about that period, and then, with this background solidly in mind, begin to weave together his own, highly informed version of the story.
From a Pulitzer Prize Winning Book to Your Term Paper
This is how you win a Pulitzer Prize. Imagine, then, what this technique would do for an undergraduate research paper or your senior honors thesis. In this article, I'm going to teach you how to build a simplified Branch-style Paper Research Database using Microsoft Excel. I'll tell you how to format it, populate it, and use it to structure your writing. Throughout, I will use the case study of an Art History research paper I wrote last spring to illustrate the process.
When to Use a Paper Research Database
A paper research database is an advanced tactic. For small papers, it's too time consuming. You are better off with the standard advice from the Straight-A method.
If, on the other hand, the assignment is a major research paper, then this technique becomes relevant. You can identify these papers because, typically, they are assigned in upper level courses, they are the only paper you have to write in the class, and they are worth a significant portion of your grade. This technique is also well-suited for senior honors theses.
In general, if you expect to work more than two weeks, and read more than 3-6 sources, consider this approach.
Step 1: Construct a Source Table
Most students don't have Microsoft Access. But they do have Excel. So that's what we will use.
The first step is to create a table for the sources you consult. Create a new workbook for the project. On the first worksheet label the following columns:

ID :: A unique number you use to label each source.
Year :: The year the source was published.
Type :: The type of source; e.g., book, journal article, interview.
Citation :: If possible, add the full citation for the source in the style required for your paper. This will save time down the line when you're writing the paper as you won't have waste an afternoon formatting citations.
The screen shot included here is of my source table from an Art History research paper I wrote last spring about the husband and wife artist/designer team, Charles and Ray Eames.
Step 2: Quote Tables
Taylor Branch had one giant table for all of his quotes. This is fine. I found it more useful, however, to have one worksheet in Excel for each major type of information I needed to look up during my research. For example, in my paper on the Eames, I had a worksheet for quotes about a particular installation piece I was focusing on. I had another worksheet for quotes on chronology of the Eames involvement with the film world (which was relevant to the paper). Etc.

You should label each quote worksheet with the following columns:
Source ID :: This is the number that describes what source, listed in your source table, this quote comes from.
Date :: What date does this quote refer to, or, depending on the information, what date was it made on.
Pages :: The pages where the quote was found.
Type :: It's helpful to describe what type of quote it is. Does it clarify chronology? Is it a primary source? Is it a secondary source doing an interpretation? As you'll notice in the screen shot to the right, I introduced a numeric coding system for the relevant types.
Quote :: The information itself.
The screen shot included in this section shows the headers used in one of the quote worksheets from my Eames paper.
Step 3: The Research Process
The research process begins with the construction of a source queue. This is a list of sources you need to review for your paper. At first, this list will be small. Maybe a few obvious books and articles that popped up from a simple search.
The process proceeds as follows:
Pop a source off your queue. Add the relevant row to your source table.
Begin processing the source. As you read through the relevant sections, mark quotes that seems important. After each section, go back and enter these quotes into the relevant quote worksheet.
As you read, you will probably come across new sources that seem like they will be relevant. Add these to your source queue.
Repeat until the source queue empties.
The screen shot to the right shows the population of one of my quote worksheets during my research process. At first, this process can be frustrating. Your source queue will grow faster than you can process its elements. But, eventually, you'll stop encountering sources you haven't seen before and the queue will, slowly, drain to empty. At this point you'll have gained comprehensive coverage of the field.
This is time consuming! So start early. This work is best accomplished in little 1-2 hour chunks spread over multiple weeks. I know it's a pain. But it's a prerequisite for writing an outstanding research paper.
Step 4: Writing
When you write, it's just you, your word processor, and your paper research database. The big advantage this tool gives you is a comprehensive understanding of all the relevant issues. You'll be astonished by how this legwork will change the feel of your writing process. You'll approach the page with confidence — which is a novel sensation for most non-professional writers. This confidence allows you to write strong, declarative sentences. It removes that sense of straining to connect paragraphs and eat up space that plagues undergrad papers and disappoints professors. And it allows you to make well-reasoned, original arguments.
In Conclusion
This is how real non-fictions writers work. If you follow their lead, you can produce writing that will blow away your professors. For research papers that matter, give this advanced tactic some serious consideration.
Related Articles