A Dose of Academic Reality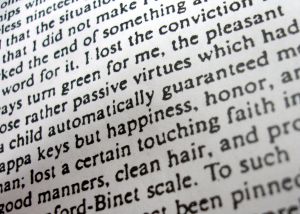 The first college course I attended at Dartmouth was a freshman English seminar titled: Popular Culture. I signed up for the course because I assumed "popular culture" meant "watching movies." In reality, so I soon learned, it meant select readings from "cultural studies" — a field in which perfectly useful english words are re-arranged into absurdly evil, kick-in-the-groin articles that, to me, were roughly as comprehensible as Sumarian cuniform tablets. I got a C on my first paper.
Watching movies this was not…
I Am Not — Unfortunately — John Travolta
It took a few weeks for me to realize a simple truth: I am not John Travolta from the movie Phenomenon. (I'm also, it seems, not very good at relevant movie references).
If you'll remember, in this movie John Travolta sees a bright light one night outside a tavern and subsequently develops incredible mental abilities. Among other things, he can instantly comprehend books just as fast as he can flip the pages.
I can't do this. Probably you can't either.
With a complicated reading, even if you go real slow, the real meaning may still elude you. The individual words all make sense, but when strung together by a professional philosopher or comparative literature scholar, they somehow evade easy association with the English language. This is what happened to me in my cultural studies class. And it's probably happened to you too. Fortunately, there is way around this tight spot…
Pre-Processing Hard Readings
Here's a simple system that will help you master your most difficult reading assignments. It's a combination of the strategies I developed at Dartmouth — instigated by that freshman seminar — and those reported to me by the dozens of students I've talked with subsequently.
It works as follows:
On the day the reading is assigned ask your professor for guidance. Ask what to expect. What to look out for. And perhaps even a brief summary of the main points. Take careful notes on what she says. Print these out.
Google search the article title. Before diving in, type the name into Google. Look for reviews or reaction essays. You'd be surprised how often someone, somewhere has written something informative about the piece. Print these out.
Do a JSTOR search for more scholarly reviews or references. If the piece is reasonably well-know, a multi-purpose scholarly database like JSTOR will likely turn up some references to the work in other scholarly articles. Accompanying these references might be a few sentences of description or reaction. Print out the relevant pages.
Attach your printouts to the assignment. If your reading assignment is in a book, make a photocopy. If it's in a reader, make a photocopy. If its online, print it out. Take your hard copy of the article and attach the explanatory material from the previous steps.
Write a pre-read summary. Before reading the assignment, carefully review the supporting materials. At the top of the document in which you'll be taking notes, synthesize this information into a concise summary of the main points made by the article.
Read the article. Finally, you're ready to dive into the article. As you read, your pre-processing should help you make better sense of what you encounter. Refer back to your supporting materials as needed. Attempt, to the best of your ability, to take standard Question/Evidence/Conclusion notes. Don't worry if not everything you encounter makes sense.
Reviewing a Pre-Processed Article
Later, when it comes time to review the article for a paper, or a test, or a class presentation, you'll have a crucial advantage over your peers. The pre-processing provides a framework for your own interpretation. Without this framework, it is easy to wander in the wrong direction or end up lost all together.
How Much Time Will This Cost Me!?
On average, this technique will add around 20 minutes of extra effort. (It might take more at first before you are comfortable with quickly searching and summarizing.) Clearly, we'd be steering dangerously close to grind territory if we applied this to every reading in every class. Accordingly, reserve this strategy for the truly troublesome assignments. For example, maybe you're in a graduate course that has just one or two hard readings per week. Or, you face an assignment that you chose to write a paper on or lead the class in discussing. Under these circumstances, these extra 20 minutes will be the difference between hazy confusion and workable understanding.