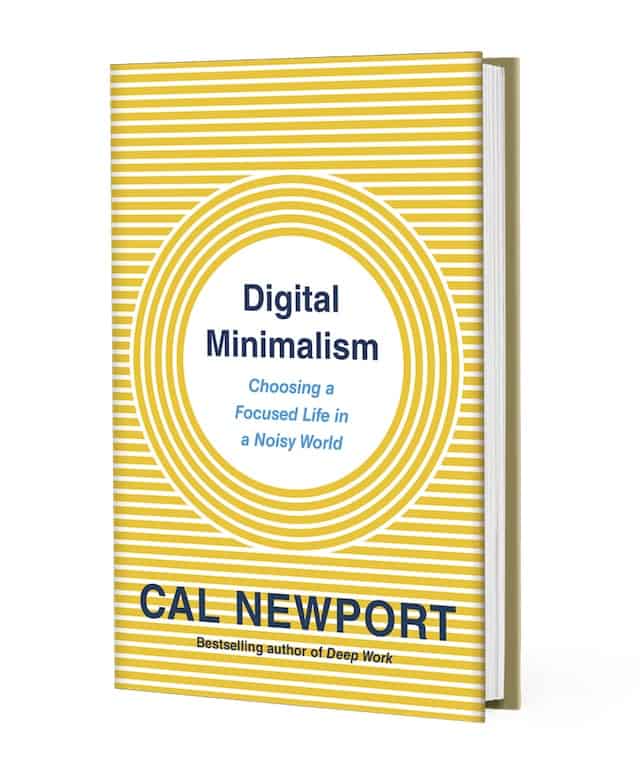 A Manual for a Focused Life
I'm excited to officially announce my new book, Digital Minimalism: Choosing a Focused Life in a Noisy World, which will be published on February, 5th.
My last book, Deep Work, tackled the impact of new technologies on the world of work. After it came out, many readers began asking me about the equally important impact of these tools on their personal lives. This new book is my response.
In it, I argue that we have been too casual in adopting alluring new technologies, and as a result our quality of life is diminishing. To solve this problem I propose a philosophy of technology use called digital minimalism in which you radically reduce the time you spend staring at screens, focusing on a small number of digital activities that strongly support things you deeply value, and then happily ignoring the rest.
In addition to arguing why minimalism is a necessary answer to our increasing digital discontentment, I take the reader inside the vibrant subculture of digital minimalists who have already found great satisfaction and authentic meaning in taking back control of their technological lives — highlighting the key principles they use to succeed in adopting this philosophy.
(Among other things, you'll learn the detailed story of the digital declutter experiment I ran last January as part of my book research, which ended up growing to over 1,600 participants and receiving coverage in the New York Times.)
I will, of course, be writing quite a bit more about these ideas and this book in the weeks ahead. My purpose for now is mainly to bring you up to speed on what I'm up to.
As a final logistical note: if you have already preordered this book, or are planning to preorder it, hold on to your digital receipt, as I'll soon be offering a large preorder package — including advance content from the book, a detailed look inside my personal productivity systems, and access to private Q&As — as my way of saying thank you. (Preorders are incredibly important for a book launch, so I'm incredibly grateful for anyone who takes the time to support me in this way.)
Stay tuned!