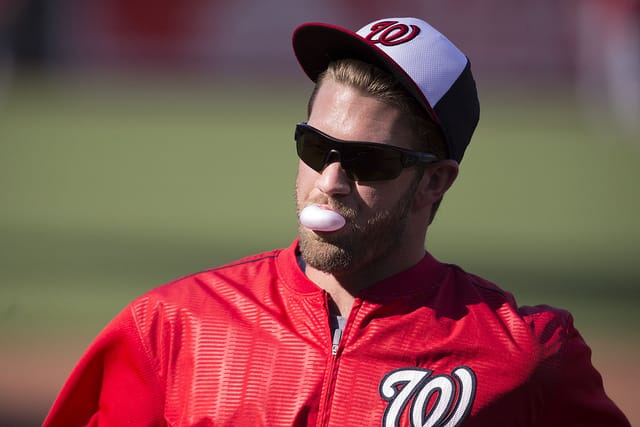 #teamnoscroll
As a big time Washington Nationals fan, I've been watching Bryce Harper play here in D.C. since he was first brought up to the majors at the age of 19. As you might therefore imagine, I've been closely following his free agency this fall.
It was due to this hardball diligence that I recently noticed a small sports page news item that intersects with the types of topics we like to discuss here. A couple weeks ago, Harper declared he was going on a social media fast. He even ironically (oxymoronically?) introduced a hash tag for his effort: #teamnoscroll.
I applaud Harper for his public step back from social media, especially during a period of intense scrutiny where checking the latest buzz would only increase his anxiety.
But reading about #teamnoscroll prompted an interesting thought: Why aren't more superstar athletes permanently disengaged from social media?
At the elite level, athletes differentiate themselves by maximizing every physical and cognitive advantage (for more on this, see Ben Bergeron's Chasing Excellence). Superstars become superstars, in large part, because they pair once in a generation gifts with relentless training.
There's a reason Lebron James spends $1.5 million dollars a year on his off-season training: the return on investment is worth it.
But then there's social media. These services create cognitive drag by subjecting you to a compulsive mix of drama and distraction. If you're famous, this drag is even more pronounced.
For the average user, this reality might prove a nuisance, but for athletes performing at the top levels of their sports, the result could be the difference between a solid career and the hall of fame; a 5-year $25 million dollar deal, and a 10-year $350 million deal.
And yet, many of the same athletes that measure their food on a scale are somehow fine scrolling on a whim.
In my role as an author who writes about focus, I've had the opportunity to discuss deep work with front office professional sports types. The general sense I'm getting is that pro teams are becoming increasingly wary about the impact of technology on cognitive fitness.
Some have told me that it's the sports agents who are exacerbating this problem by encouraging their clients to "build their brand" through social media. I have a hard time believing this is true because it's self-defeating. I can't imagine that star agents like Scott Boras, with his binders full of advanced analytics breaking down every contribution of his clients, would be blind to the extra edge provided by an unusually focused mind.
I wouldn't be surprised, in other words, if we start to see more of a systematic move away from social media by top figures in sports as the full impact of this technology is better understood.
To make this more concrete: few things would make me happier than to see much less of Bryce Harper on Instagram, and many more years of his ferocious swing here at Nats Park.
###
Speaking of social connection and work, my friend Dan Schawbel has a new book out this week called Back to Human. It provides a compelling and evidence-based argument for the importance of old-fashioned, non-technological interaction in leading successful teams. I've always liked Schawbel's work, but this book hits particularly close to the types of issues I write about here —  in particular, the unintended consequences of tools like email, and what we can do to mitigate these issues. Check it out…
(Photo by Keith Allison.)