A Perhaps Ill-Advised Talk
I recently returned from Portland, Oregon, where I was a speaker at Chris Guillebeau's World Domination Summit. I stood in front of a crowd of 1000 energized, non-comforming, optimistic folks and told them: "follow your passion" is terrible advice.
And I somehow escaped injury.
Actually, the most common response I received: "I completely agree, but other people are going to find your message radical." After enough people told me they agreed, I concluded something I've suspected for a while now: this idea is less radical than we assume.
Perhaps our generation is tired of the passion hypothesis, but just hasn't gotten used to saying it out loud yet.
All told, I met many interesting people and was exposed to many interesting thoughts. This was not a Study Hacks crowd, but it was a crowd I was honored to join.
If You're New Here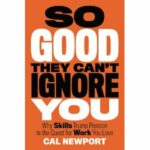 If you're a WDS person visiting to find out more about passion and its discontents, I want to point you to my upcoming book, SO GOOD THEY CAN'T IGNORE YOU (pub date: September 18), which lays out my detailed case why "follow your passion" is bad advice, and what you should do instead.
Here's my tentative call to action (I'm such a bad marketer that Chris Brogan, within an hour of meeting me, literally gave me an empty business card holder):
Will Return Soon
Anyway, I'm off to Funchal, Madeira tomorrow for a conference of an entirely different tenor (less inspirational speeches, more powerpoint slides full of equations), but I have a series of interesting posts backed up, waiting for my return.
Stay tuned…
(Photo by Chris Guillebeau)