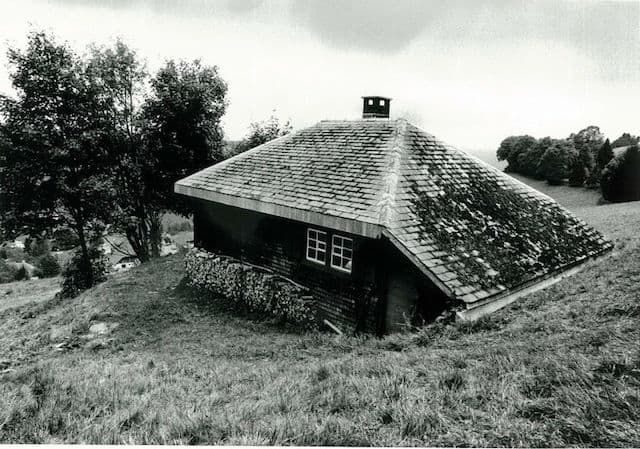 I was in California last week promoting Digital Minimalism. One of the books I brought to keep me company was Sarah Bakewell's insightful, and surprisingly entertaining, At The Existentialist Cafe.
In the third chapter, I came across a nice piece of focus porn concerning the philosopher Martin Heidegger.
During Heidegger's first academic appointment, which was at the University of Marburg, his wife Elfride used an inheritance to buy some land near the Black Forest town of Todtnauberg. The plot overlooked "the grand horseshoe sweep of village and valley."
As Bakewell elaborates:
"[Elfride] designed a wood-shingled hut to be built on the site, wedged into the hillside…Heidegger spent much time working there alone. The landscape criss-crossed by paths to help him think…in evenings or out of season it was silent and tranquil…when alone there, Heidegger would ski, walk, light a fire, cook simple meals, talk to the peasant neighbors, and settle for long hours at his desk, where…his writing took on the calm rhythm of a man chopping wood in a forest."
Heidegger, of course, went on to become a controversial figure due to his later involvement with the Nazi party, but it's hard to overstate the intellectual impact of his book Being and Time, which was written during this Marburg period, and helped shatter the rapidly ossifying structures of German phenomenology, ushering in a torrent of philosophical innovation.
In my more pessimistic moments of techno-contemplation, I worry about how many similarly deep thinkers we've accidentally "innovated" out of existed in recent years.
The metaphoric exemplar of Heidegger's long days of writing in his Todtnauberg hut seems increasingly foreign in a world where academic life has been diminished toward the managerial by email, and social media increasingly tempts the rare egos large enough to produce something like Being and Time to pursue the immediate gratification of a righteous tweet over the tedious slog of writing an epochal book.
And yet, something about Heidegger's purified intellectual life still appeals to us despite all these distractions. Electronic busyness offers fleeting satisfactions, but embedded in our cultural DNA is an appreciation of the deep ideas that last even after the servers power down.
Twitter is fun, but most of us would still rather our biggest minds quietly wander the paths surrounding their Black Forest hideaways, hunting transformation over retweets. We can hope that as long as this instinct persists, a correction to our current slide toward shallowness remains inevitable.