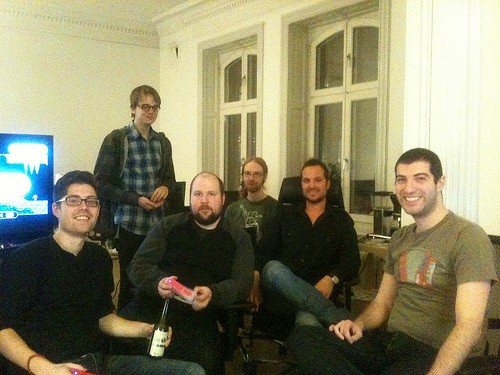 The Minecraft Revelation
Markus Persson got me thinking.
Markus is three years older than me, he's Swedish, and he's rich. He made his money in an field not usually known for its wealth-generation: indie computer game development.
Markus' story starts in 2009, when he quit his job as a game programmer for King.com to build Minecraft, a java-based world building, zombie fighting, mine digging sandbox game. (You probably have to see it to understand to it.)
People, it turns out, really like Minecraft. In January of this year, Markus sold his millionth copy. Earlier this month, sales passed the 2.5 million copy mark. Markus has made somewhere between $30 – 40 million dollars on the project.
Here's what troubled me about the Markus Persson story. On Study Hacks, I've been promoting the idea that you have to be good at what you do before you can expect your job to be good to you. This is why I push myself and others to stop worrying about their "passion" and day dreaming about courageously bucking the status quo. Navel-gazing and conformity-defiance, I argue, is not how people end up loving what they do. Instead, they start by getting good at something rare and valuable, and then leverage this "career capital" to construct — not discover — a fantastic career.
Markus seemed like a good case study of this philosophy. Before he could develop Minecraft, he had to become excellent at game development. Not surprisingly, it turns out he started programming at the age of eight and then after college worked for a half-decade at a game company to further hone is skills.
But here's the problem: lots of other people are also really good at programming and also build indie games, but are nowhere near as successful at Markus. The implication here is one that I've been encountering time and again, in many different settings, and I realize I can't ignore it any longer: Becoming "so good they can't ignore you" is a pre-requisite for building a remarkable life, but it's not necessarily the whole story.
Once you have acquired career capital, you still have to figure out what to do with it, and the best strategies here — the strategies that separate the Markus Perssons from the hordes of other talented game programmers — are not obvious.
Project Remarkable
I want to explore these non-obvious strategies. In other words, I'm going to assume that my Rethinking Passion series has throughly convinced you that "follow your passion" is bad advice and that you must instead start by becoming good at something. Now it's time to figure out what comes next.
Here's my plan: I'm going to use myself as the guinea pig. As I start my new job as a professor, I have a base of rare and valuable abilities to draw on, in that I'm relatively adept at producing cutting-edge research in my field. But so are lots of other young professors. The question, then, is how can I most productively leverage this capital to stand out from the crowd and nudge my career in a more remarkable direction.
Over the next few months, I'll use my Lab Notes series to report on the efforts I'm deploying. But in the meantime, I want to learn from you. If you've found success leveraging hard-earned ability to take control of your life and move it in a remarkable direction, chime in on the comments and share what you've learned.
That is, if you can tear yourself away for a few minutes from the sweet new tower you're building in Minecraft.
(Photo of Markus Persson and his newly formed development company by paulamarttila.)