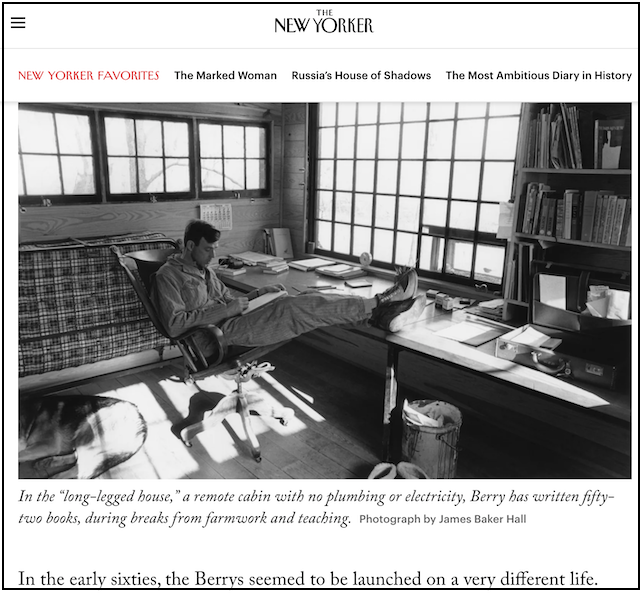 In my previous essay, I wrote about how novelist Jack Carr rented a rustic cabin to help focus his attention on completing his latest James Reece thriller. This talk of writing retreats got me thinking again about what's arguably my favorite example from this particular genre of aspirational day dreaming: Wendell Berry's "camp" on the Kentucky River.
In February, Dorothy Wickenden, whose father Dan Wickenden was Berry's original editor at Harcourt Brace, featured Berry's camp in a lengthy New Yorker profile of the now 87-year old writer, farmer, and activist. Berry brought Wickenden to a twelve-by-sixteen foot one-room structure, raised on concrete pilings high on the sloped bank of the river, only on the condition that she not reveal its exact location.
In the summer of 1963, Berry, all of twenty-nine, and just a few years into a professorship at New York University, built the current cabin on the same site where his great-great-great grandfather, Ben Perry, one of the first settlers in the valley, had long ago erected a log house. Berry remembered the location from his childhood. As Wickenden explains, Berry returned that summer to build an escape where he could "write, read, and contemplate the legacies of his forebears, and what inheritance he might leave behind."
What struck me as I returned to this story were the unremarked implications of its timing. Berry supposedly built the cabin in the summer of 1963, but didn't announce his resignation from NYU and move to Kentucky until 1964. Though I can't confirm these details, I like to imagine Berry returning to New York from his summer retreat, with the attraction of the deep contemplation available on the quiet shores of the Kentucky River gnawing at his attention, stirring something within — until, finally, he cracked, and decided it was time to move home.
Regardless of the details of Berry's motivation, it's hard, in hindsight to question the decision, as he ended up writing fifty-two books in that humble room, and becoming one of the twentieth century's most influential voices on sustainability and rural living.
Sometimes we retreat to the proverbial cabin to support deep work already under way. Other times, we build the cabin first, and then let its charms convince us to get started.