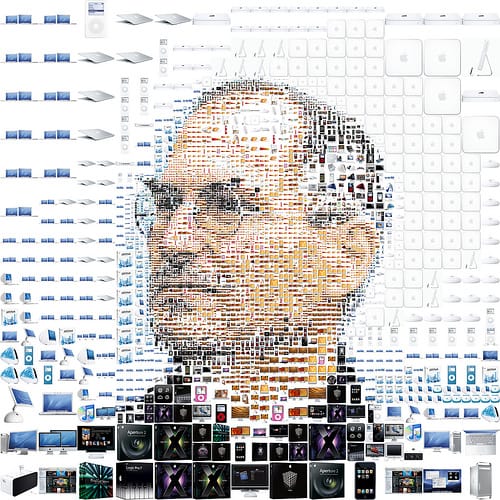 The Perfectionism of Steve Jobs
While designing the original Macintosh, Steve Jobs became frustrated with the title bars. As Malcolm Gladwell summarizes in a recent essay on industrial innovation:
"[Jobs] forced the developers to do another version, and then another, about twenty iterations in all, insisting on one tiny tweak after another, and when the developers protested…he shouted, 'Can you imagine looking at that every day? It's not just a little thing. It's something we have to do right.'"
Gladwell told this story to emphasize a truth about Jobs that many found frustrating: "He needed things to be perfect."
A Different Type of Practice
Like many in the advice community, the death of Steve Jobs drove me to a period of morbid, posthumous anthropology, seeking some insight into what made this icon who he was. In this scavenging, it was the tales of perfectionism — emphasized by many different commentators — that caught my attention.
Jobs' quest for perfection made him "complicated and exhausting," but it also made him and his team really good at what they did.
On reflection, this makes sense. When we declare something to be "good enough," we are declaring that we have reached the limits of our comfort zone. A "good enough" outcome, in this respect, is a snapshot of our current ability level. Pushing something beyond this point crosses a threshold into an ambiguous and uncomfortable territory, where we need skills we don't yet have and which might be difficult to acquire and apply.
This is a territory most of us avoid.
People in the orbit of Steve Jobs could not.
And they became the best technologists in the world.
Defusing the Dangerous Allure of Perfect
We have now entered a precarious situation. Perfectionism, I'm arguing, can be a powerful technique for injecting deliberate practice into your working life, as the quest for perfection forces you to strain and develop new abilities in a way that you would otherwise naturally avoid. Because of this, it provides a nice case study of our deliberate practice hypothesis in action.
But perfectionism is also dangerous. It's the source of workaholism and the bane of elite college students. It drove Harvard's happiness guru, Tal Ben-Shahar, to write a book with the subtitle, How to Stop Chasing Perfection and Start Living a Richer, Happier Life.
To harness this technique, therefore, requires nuance.
Controlled Perfectionism
In my own work as a professor, I've been trying to figure out this balancing act. My current solution is to draw a line between what I call controlled perfectionism and pathological perfectionism. 
The latter type of perfectionism, which equates any shortcoming to a devastating personal failure, is what Ben-Shahar attacks. I have no interest in this pathology.
The controlled variant, by contrast, exists only within the boundaries I provide. I take an important project and set aside a well-defined interval in which I relentlessly tweak, optimize, and improve. Sometimes I choose this interval to be the weeks leading up to a deadline, and sometimes I choose a period earlier in a project cycle, when, for example,  I'm still building up a set of new mathematical results that will provide the foundation for papers to follow.
The important part of my process — the part that separates this obsessiveness with the pathological variety — is that when my interval is done, I stop. Inevitably, I'm still well short of an ideal output, but what matters to me is not this specific outcome, but instead the striving for perfection and the deliberate practice this generates.
In other words, I want to keep getting better, not necessarily make this particular project the best thing ever.
Whether this balance is the right one remains to be seen, as this experiment in my working life is still new and evolving. It does, however, underscore both the complexity and the potential power of integrating deliberate practice into the world of knowledge work.
(Image by tsevis)
#####
This post is part of my series on the deliberate practice hypothesis, which claims that applying the principles of deliberate practice to the world of knowledge work is a key strategy for building a remarkable working life.
Previous posts: