The Two Faces of Productivity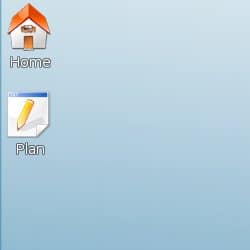 Productivity can be divided into two main concerns. The first is capturing and organizing all of the "stuff" you have to do.
This is the fun part.
This is where you buy fancy notebooks and configure Remember the Milk to auto-sync with your iPhone. It keeps productivity blogs in business and makes David Allen rich.
The second concern is actually doing the stuff that you need to do.
This is much less fun.
This post is about this second concern. I don't claim to have a universal answer. But there is a simple technique that I've been using since last January, and that has significantly increased my churn rate. This technique centers on a small, innocuous text file sitting on my computer desktop — a file named plan.txt…
plan.txt
Once a week, usually on Mondays, I open a small text file named plan.txt and jot down my action plan for the week.
There are no hard rules for this plan. Some weeks it's a few sentences. Usually, it's a few paragraphs. Sometimes it spans multiple pages.
I tend to break down what I want to get done into the major area of my life (grad student, writer, etc.), but not always. I sometimes assign work to different days. Sometimes I don't. On some occasions I'll roll out a complicated scheme and on others I'll just say "work on project X until it's done!"
Here's a screenshot of my plan.txt file as of this morning: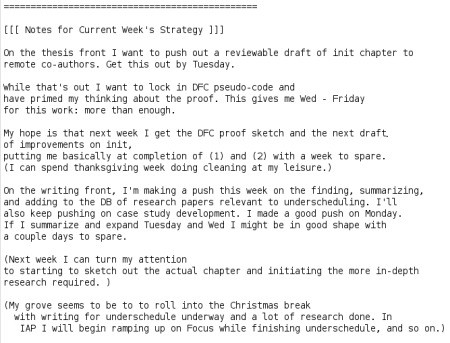 You'll notice I don't follow a rigid format. This week I've broken down my goals between my research and my writing. I have some loose date assignments (e.g., finish draft of a particular thesis chapter by Tuesday afternoon). I'm also linking these short-term goals to my long-term projects. I don't always do this, but I felt like I needed to encourage myself this week that I was still on track with my big picture goals.
Here's the important point: last week's plan.txt looked much different. Next week's will probably look much different as well.
Freestyle Productivity
My plan.txt strategy is an instantiation of a larger philosophy I call Freestyle Productivity. This philosophy is inspired by the following law:
The Law of Action Planning: No rigid rules or systems for figuring out "what to do when" can work effectively for more than a few weeks before becoming obsolete.
We can come up with task capture systems that work fine for years and years without a major change. But when it comes to planning out what we do each day, my experience is that there's no magic system that applies to every situation. The realities of our daily lives change too much to be handled by any set rule.
And that's okay!
Here's my theory:
Our brains are terrible at remembering everything we have to do, which is why good capture and organizations systems are necessary.
Our brains are wonderful, by contrast, at coming up with short-term plans that balance the subtle demands we face in the near future. Trying to force a one-size fits all action plan to our lives constrains this natural ability.
My plan.txt file takes advantage of this reality. It allows my brain, each week, to do what it does best: figure out a very workable short-term plan for making progress on what's important. This is freestyle productivity in action. My tasks are captured. My goals clear and steadfast. But my short-term work habits are incredibly pliable as I mold and re-mold them to the new challenges I face.