Quick hits is an occasional feature where I take a breather between my epic big idea posts to share ideas, ask questions, and in general provide a catch-all place for me to catch up with you.
Rethinking Remarkable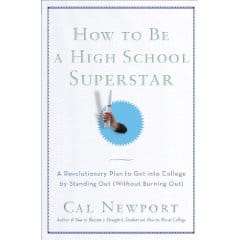 A collection of recent articles dissecting the idea of remarkableness…
My Next Post
I'm in the process of writing a real humdinger of a post. It's the next entry in my series on applying deliberate practice in everyday life. The focus is how star graduate students become stars (it's built around an interview I conducted with James McLurkin, the famous MIT roboticist who just got hired at Rice.) The strategy I highlight, however, is wildly applicable to a lot of different fields.
Stay tuned. I hope to have it up soon…
My New Book is Available!
As you know, I have a new book coming out this summer. It's called How to Be a High School Superstar, and it introduces the zen valedictorian concept to the students who arguably need it most: those suffering through the college admissions process. (See this article for more details.)
Though its primary audience is high school students, it also provides a general look inside the fascinating science of what makes interesting people interesting; so it will hopefully find a home with an even wider readership.
If you like my writing and are interested in this book, you should consider pre-ordering a copy on Amazon. (Fans of my red and yellow books know that I'm perennially understocked at bookstores — a large number of pre-orders will inspire the big chains to take my titles more seriously.)