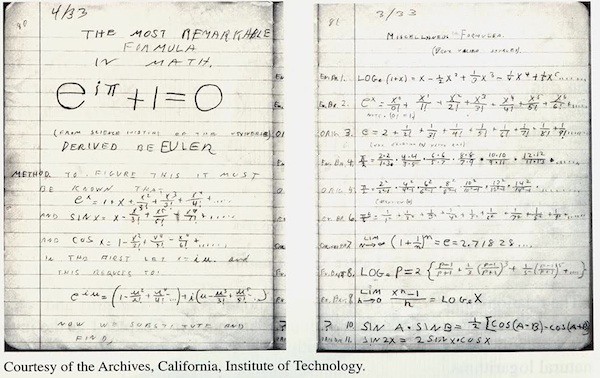 Gleick's Genius
I'm currently re-reading Genius, James Gleick's celebrated biography of physicist Richard Feynman.
I was particularly drawn to the opening chapters on Feynman's childhood in Far Rockaway, Queens. It's tempting when encountering a brilliant mind like Feynman's to resort to cognitive hagiography in which the future Nobel laureate entered the world already solving field equations.
But Gleick, whose research skills are an equal match for his writing ability, uncovered a more interesting origin tale…
The Math Team Factor
Arguably, the seed of Feynman's success was his participation in the New York City public school system's Interscholastic Algebra League.
As Gleick explains, Feynman was on his school's math team. The team competed in meets in which the competitors raced to solve algebra problems. The important thing to understand is that these problems were designed with "special cleverness…there was always some trick, or shortcut, without which the problem just takes too long."
Feynman became hooked on the feeling of uncovering these mathematical insights. Here's Gleick:
"The heady rush of solving a puzzle, of feeling the mental pieces shift and fade and rearrange themselves until suddenly the slid into their grooves — the sense of power and sheer rightness — these pleasures sustain an addiction. Luxuriating in the buoyant joy of it, Feynman could sink into a trance of concentration that even his family found unnerving."
Hungry for his next insight fix, Feynman began seeking out classic results from a variety of fields, with a particular interest in infinite summations that yielded pi or Euler's constant (see the above image of pages from his teenage notebook).
To simply learn by rote what was already known would not provide him the hit of insight he craved, so he began working out the results on his own:
"His notebooks contained not just the principles of these subjects but also extensive tables of trigonometric functions and integrals — not copied but calculated, often by original techniques that he devised for the purpose."
The Magician
Feynman's colleagues, according to Gleick, understood him to be a magician: someone whose results seemed to come out of nowhere. But Feynman's childhood training clarifies that this ability to confidently dive to the essence of a problem was a skill he pursued and sharpened starting from an age when most were still focused on backstreet stick ball.
Put another way, by the time Feynman graduated MIT — en route to the Manhattan Project, then the Cornell faculty, where his devastatingly original work on quantum mechanics would win him a Nobel Prize — he had likely spent more hours practicing the hunt for deep insight than almost anyone in his generation.
I don't doubt that Feynman's brain was special. But to borrow some useful terminology from David Epstein, what mattered was that this high power hardware was matched with exactly the right software, developed through years of deliberate practice, to unlock Feynman's genius.