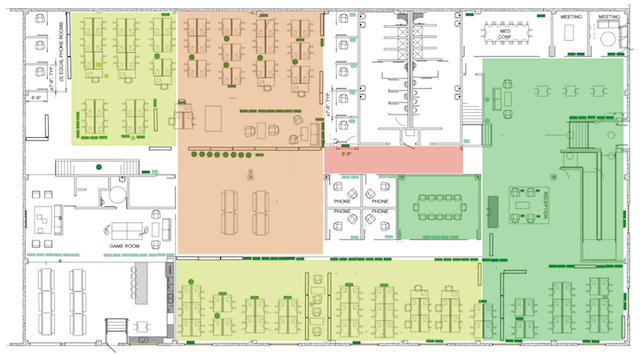 Segment's Focus Problem
Segment is a typical Silicon Valley success story. It's a data analytics software company started by three MIT dropouts in 2011. Last year it raised $64 million in its Series C funding round.
Things at Segment, in other words, were going well — with one exception: their employees were having a hard time focusing. Concerned, the company ran an internal team survey and discovered that the "chatter and noise" in their industry-standard open office was the biggest cause of distraction (not surprisingly, "group slack channels" was the second biggest cause) .
So Segment decided to do something about it.
In a move that you could only expect from an advanced data analytics company, they programmed an iOS app to measure office noise levels and ran it on the iPads mounted outside the office's conference rooms. They then crunched the resulting data and found that some parts of the office were more noisy than others, with the loudest areas around a factor of two louder than the quietest (see above image, in which red corresponds to loud and green to quiet).
Armed with this data, they rearranged the seating in their open office. As they described on their company blog:
"The teams needing the most verbal collaboration — Segment's sales, support, and marketing teams — moved to the naturally louder parts of the office. The teams needing the most quiet — engineering, product, and design — moved to the quietest parts of the office."
They then re-ran their original survey and discovered that the total time people spent focusing increased from 45% to 60%. As they explained: "In a purely numerical sense, you could equate that to hiring 10–15 people."
The Focused Future
What I like about this story is that the company identified the ability to focus as a tier one skill (indeed, they list it as one of their four "core values"), and then made concrete, data-driven changes to better support it.
In recent years, when interviewed about my writing, I often predict that a transformation away from our current ad hoc, noisy, distracted way of working into something much more structured and effective is not only inevitable, but will happen fast once it gets going.
When you see a company like Segment essentially find 15 free employees by rearranging their desks to support more deep work, you get a glimpse of the type of humble experiments that will spark a major revolution.
######
My friend Rob Montz is an incredibly talented, up and coming documentary filmmaker based out of DC. On Wednesday (Nov. 1st), he's hosting a sneak preview screening of his new documentary short, "The Quarterlife User Manual," which, in his words, "lays out the core rules a newly minted college grad should follow to secure a meaningful job." It also features yours truly, among many other more famous subjects. If you're interested in seeing the sneak peak (which will be held in We Work — Manhattan Laundry, in the Columbia Heights neighborhood of DC), send an email to [email protected] to request a spot on the guest list…I only ask that you applaud loudly whenever I appear on screen.