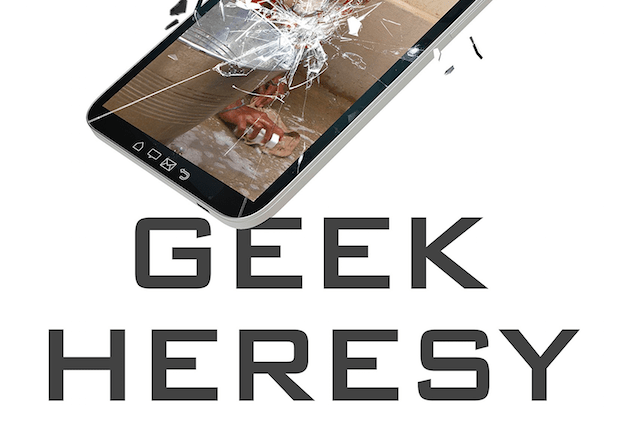 Some Insights from a Geek's Heresy
I recently began reading Kentaro Toyama's 2015 book, Geek Heresy: Rescuing Social Change from the Cult of Technology.
To provide some background, in 2005 Toyama cofounded Microsoft Research India, which focused on applying technology to social issues. He then left for academia where he began to study such efforts from an objective distance. Geek Heresy describes what he found.
I'm only through around 100 pages, but so far Toyama's conclusions have been bracing.
He leverages a blend of research and firsthand experience to dismiss the cult-like belief (common in Silicon Valley) that hard social problems can be solved with the application of the "right" technology (an illustrative target of Toyama's critique is Nicholas Negroponte's belief in the power of cheap laptops to cure all that ails the developing world).
For the purposes of this post, however, I want to highlight a powerful observation detailed in Chapter 2. It's here that Toyama introduces what he calls the Law of Amplification, which he defines as follows:
[T]echnologies primary effect is to amplify human forces. Like a lever, technology amplifies people's capacities in the direction of their intentions.
As Toyama elaborates, you cannot expect a technology to transcend existing social forces or transform existing intentions; it tends instead to amplify whatever tendencies are already in place; c.f., social media, which instead of transforming us into a newly informed global community, supercharged our existing biases for gossip, self-aggrandizement, and easy distraction.
It seems to me that among many applications, this "law" is quite relevant for understanding some of the issues concerning technology in the workplace that I've been grappling with over the past few years.
Consider, in particular, my favored target of the moment: workplace email.
To understand email's impact in the context of this law we need to step back and understand the forces at play right before this tool's arrival.
Fortunately, we can get an insightful look at this period in another book I recently read, Leslie Perlow's 1997 treatise, Finding Time: How Corporations, Individuals, and Families Can Benefit from New Work Practices, which describes nine months Perlow spent observing software developers in a Fortune 500 company.
Finding Time paints a picture of a pre-email workplace in which many of the problems that define our current age are incipient. Managers interrupt workers constantly to check in and unexpectedly shift priorities. There's little structure to how the day unfolds, and in its place are an atmosphere of crisis, fragmented time, long hours, and a sense of very little "real" work getting done.
(Interestingly, later in the study, Perlow ends up convincing the developers to deploy prescheduled deep work blocks into their day — to much success.)
The arrival of email into the workplace was generally accepted by our culture as a good thing. Making communication faster and people more accessible, it was argued, should only increase options and opportunity (which, as Kevin Kelly explains, is What Technology Wants).
According to Toyama's Law of Amplification, however, this new technology should instead be expected to amplify the types of existing intentions and trends Perlow documented.
Which is exactly what it did.
As I mentioned in a recent post, digital communications certainly did simplify some existing processes in a positive manner. But it's main impact has been to take the culture of crisis and interruption Perlow found bubbling below the surface in the late 1980s and early 1990s, and erupt it into the new, stress-inducing whirlwind that defines 21st century knowledge work.
To step back: Toyama's book primarily addresses the folly of assuming technology in isolation can solve social problems. But I'm arguing that this warning also applies to the world of work.
As the history of email teaches us, a new technology, no matter how slick, cannot by itself transform a workplace for the better. This remains a deeply human endeavor. We must figure out what it means to work well in the 21st century and then slot in technologies only where and how they fit this plan. These tools cannot do this hard work for us.