Welcome new readers. Study Hacks is a blog dedicated to productivity hacks for students. If you like this article, you might also like these posts on how as an MIT grad student I never work past 5 PM, the difference between work and pseudo-work, and the key to becoming both impressive and relaxed. If you prefer more technical advice, consider my article on using a Monotypic e-mail inbox, this survey of effective student time management techniques, this story of a student who got a 4.0 with 0.0 notes, and these instructions for building a paper research database.
The Secret Art of Stealth Studying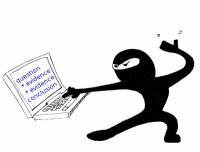 Most students don't mind studying if the work gets done in focused chunks, spread out over a reasonable amount of time. For some, however, reasonable efficiency is not enough. They want more. They want to push academic productivity to its absolute limit. They want nothing less than to eliminate studying all together!
I can't get you all the way to this goal. But I do know a technique that can get you close. Imagine only having to study for one hour the day before a test? No more stress. No more long nights.
It's possible. During my research for Straight-A I came across exactly two out of the fifty students I interviewed who managed to accomplish this goal. (And were loving life because of it). Their technique is a little-known art I like to call: Stealth Studying.
In this post, I will teach you this art…
The Stealth Studying Philosophy
Before your torch your notebooks, I should make an important clarification. You cannot avoid capturing and internalizing information. It's like a law of nature. These activities must take place before you can score high on a test.
The stealth studying philosophy, however, states: the perceived difficulty of work grows with the amount of consecutive time you spend working. If you can take your test preparation and slice and dice it — ninja style — into a large number of small, 5-10 minute chunks, integrated naturally into your daily routine, spread over your whole semester, you will perceive next to no difficulty. In other words, it will feel to you as if you are doing no studying at all.
Let's dive into the details…
A Five Step Stealth Studying Playbook
There are many ways to implement stealth studying. The approach I am going to describe is based on the tested techniques behind the Straight-A method. (That is, it relies heavily on the quiz-and-recall review structure). Note, this system tackles non-technical courses. It should be easy, however, to adapt the basic tactics to other types of material.
My approach relies on three principles:
If you're already intaking information — in class or doing a reading assignment — you might as well process the hell out of it at the same time. This prevents the need to do this work later in a separate work block.
Walking is a great time to review.
Fill in gaps in your understanding immediately! If left untreated, these topics collapse into test prep black holes.
I've broken my stealth studying system into five separate tactics:
Construct study guides on the fly.
When taking notes — in class or while doing a reading assignment — start constructing your study guide at the same time. The easiest way to do this is to copy the questions from your question/evidence/conclusion clusters and paste them at the top of your document as you go along.
Print study guides immediately after construction.
As the professor winds down, or as you finish your reading assignment, send your notes to the nearest public printer. (Or e-mail them to yourself so you can load it up on a public computer connected to a printer). Before doing so, however, reduce the font to the smallest size you can still read. (This will prove useful later.) As you walk out of the classroom, or library, swing by the printer to grab your printout.
Review using the "10-Minute Detour" method.
Throughout the semester, you will gather a growing collection of these expanded study guides (the "expanded" here refers to the fact that the notes the questions are based on are included in the same printout — this makes them self-contained). As soon as you have your first study guide printed, start looking for ways to add a 10-minute detour to a walk across campus you already need to do. Make these detours pass through somewhere quiet and unpopulated. For example, on your way from lunch to your afternoon class, you might loop down for a 10-minute stroll by the lake before veering back to the lecture hall. During these detours take out one of your expanded study guides and start doing a quick quiz-and-recall review. Do this out loud. As you walk. (It's okay to do this quietly to prevent unexpected institutionalization). In 10 minutes you might knock off 2-4 questions. Some additional notes on this process:

Get in the habit of sprinkling these detours throughout your working hours on working days. (If you're between classes, your mind is probably already in a deep thinking mode — or a mild coma, depending on the professor).
If you can slip in two 10-minute detours most days, you're doing fine. Keep in mind: these are harmless. Because they are so short, and you do them while walking to something else, the perceived difficulty is near nill.
Always have study guides in your pocket. The small font on your printout makes it easier to fit more in less space.
Try to review new material within 24-hours to help cement it while it's still fresh.

Ask questions every class. Attend every office hours.
To make stealth studying work, you need to understand all the material as quickly as possible. This means you need to come to class attentive and be a question-asking fiend. When you don't quite understand how something fits a broader point, ask. If you don't want to keep interrupting the class, save a collection of specific, concise questions to ask the professor immediately following class. Attend office hours most weeks to discuss the topics you found most difficult. Think of this as a pain-free, advanced review session. We have no time to spare for you to re-learn this material later on before the test. If you don't get it down the first time, we can't get your study time down to an hour.

The night before the exam do one (and only one) complete Quiz-and-Recall pass.
Now comes the only traditional studying you will have to do. The night before the test, gather all of your expanded study guides. These guides should have been mastered at some earlier point in the semester during a 10-minute detour. You need, however, to refresh this information. Do a full quiz-and-recall pass through all of the study guides. Because of your earlier review, there should be few questions you don't nail on your first pass. This should allow you to complete the full quiz-and-recall process in no more than an hour. At this point, you are ready to ace the exam.
In Conclusion
Once you pierce the veil of conventional wisdom, you begin to discover just how much flexibility you actually have with the dreaded activity us students label "studying." The stealth studying system is a perfect example. With the right discipline, and a taste for experimentation, long blocks of library time can be eliminated almost completely from the process of test preparation. Imagine how much stress this would remove from your student life.
If you plan to give this a try, drop me a line. I'd love to hear your story…